Yauhen Afnagel Arrested
120
23.03.2018, 10:09

177,351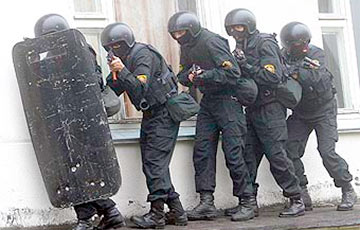 (updated) The police threatened to storm politician's house with the use of special means.
This morning, one of the leaders of the Belarusian National Congress, coordinator of the European Belarus civil campaign Yauhen Afnahel was arrested.
Politician's wife Katsiaryna Ludvih has informed Charter97.org about this.
"The house was under siege for several days, there were mini-buses with riot police on duty on each side, there were six people in the buses, plus motor cars appeared from time to time.
Riot policemen patrolled all the neighboring streets, at night they were also on duty, building fires.
When I was driving somewhere, I was immediately followed, they were checking if Zhenia was there, policemen were on duty on the road to the house.
This morning, riot policemen approached the house and said that there was an order to detain Zhenia in any case, even if he did not leave home until 26 March. They said that they would take the house by storm, using special means, asked if there were small children in the house, they said that they would break even the interior doors and windows.
After they started flowing together to the house from all sides, knocking at the door and threatening to break in, Zhenia decided to go out. Today there will be a trial, he has no "debts" for previous rallies," – the politician's wife said.
The hearing in Yauhen Afnahel's case was held in the Maskouski district court of Minsk. according to the human rights center "Viasna", only the police and the judge were present in the courtroom, apart from Afnahel. It is known that the politician stood trial under Part 3 of Article 23.34 of the Administrative Code ("breaking the order of organization or conducting of a mass event").
As of 3 p.m., the hearing in Afnahel's case is known to be completed, but the journalists cannot obtain the information of its results. The secretary of the court refused to give any comments, having said that: "We only provide information to the participants of a process."
We remind that on March 21, authorities arrested leaders of the Belarusian National Congress Uladzimir Niakliayeu, Maksim Viniarski and Viachaslau Siuchyk.
Maksim Viniarski and Viachaslau Siuchyk have been sentenced to 10 days of administrative arrest, Uladzimir Niakliayeu – to 5 days.
Illustrative photo