Yauhen Afnahel: We Are At Large Due To International Pressure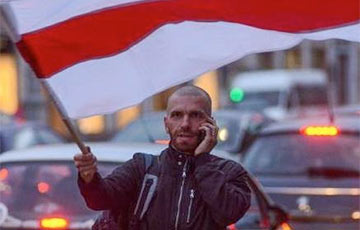 One of the BNC leaders has commented on the detentions in Minsk on Freedom Day.
Yauhen Afnahel, one of the BNC leaders, has told Charter97.org why the authorities decided to release activists soon after they had been arrested.
– Detentions on Freedom Day are a traditional manifestation of Lukashenka's fear. His regime is afraid of the people. Last year he saw what was taking place on the streets of Minsk, how many people could go out.
His has been afraid since 2010. It was a nightmare for him when tens of thousands of Belarusians were marching along Independence Avenue and chanting "Resign!". This nightmare comes after him regularly. That is why they use the method of preventive detentions.
Nonetheless, as I have learned, people still came to the procession, came to the concert and all these arrests did not reach their goal.
– Why did they suddenly decide to release you?
– They released us due to the international pressure on the Belarusian authorities. Thanks to the work of journalists, everyone knows about what was happening in Minsk today, at Yakub Kolas Square in particular. Everybody knows about these preventive arrests.
I think that over the recent days, Lukashenka's officials have heard a lot of unpleasant words. That is, there has been international pressure, there have been demands to release political prisoners.
I would like to take this opportunity, late though it is, to congratulate all the Belarusians on Freedom Day – on this great holiday – the 100th anniversary of the proclamation of the Belarusian People's Republic!
We remind that on March 21, members of the organizing committee to celebrate the BPR's 100th anniversary were detained: Viachaslau Siuchyk, Maksim Viniarski and politician Uladzimir Niakliayeu. They were arrested for 10, 5 and 10 days respectively and taken to the detention center in Akrestsin Street.
On March 22, activists Leanid Kulakou and one of the BNC leaders Yauhen Afnagel were detained. They were also arrested for 10 days.
In the morning of 25th, Mikalai Statkevich was detained, he was arrested for 10 days, but released later.