Amnesty International: Access to Charter97.org Website Must Be Restored
8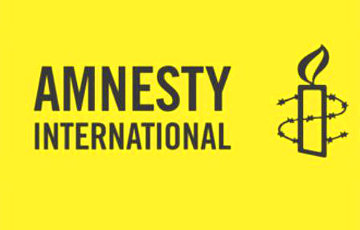 Human rights organization issued a harsh statement criticizing violations of freedom of expression in Belarus.
"Detention of journalists, harassment of independent media and new unduly restrictive legislation mark a low point for freedom of expression" says the statement on the Amnesty International website, dated 31 August. Parts of the document are devoted to the blockage of Charter97.org website, so called "BelTA case" and recent amendments to the media law.   
Excerpts from the document are below.
- The right to freedom of expression in Belarus has been dealt a series of severe blows in recent weeks, as the authorities' crusade against journalists and independent media outlets continues. The latest moves by the Belarusian authorities demonstrate their resolve to eliminate all critical voices in the country and deprive people in Belarus of the opportunity to freely access, share and disseminate information and ideas.
Early this year, the government blocked access to a leading opposition website, the Charter'97. Since then, its editor-in-chief, Natallia Radzina who lives in exile in Poland, has received death threats from sources which, she believes, come from within Belarus. In June, legislative amendments introduced harsher restrictions to online media in a move which was widely criticized by the international community. Most recently, between 7 and 10 August 2018, at least 18 journalists were arrested on accusations of illegally accessing information belonging to the state news agency BelTA.
The environment in Belarus for independent media remains one of the most repressive in the world, according to Reporters Without Borders. The state routinely harasses independent journalists and bloggers critical of the authorities, and makes full use of its increasingly repressive legislation to unduly restrict activities of independent media outlets, in contravention to the International Covenant on Civil and Political Rights that protects the rights to freedom of expression and access to information and to which Belarus is a party.
Belarusian authorities must overturn all existing undue limitations on online and offline media. The authorities must also stop arbitrarily targeting journalists via politically motivated prosecutions and must restore access to the Charter'97 website with no restrictions. Furthermore, the authorities must ensure readers and commentators of online media outlets can seek and share information freely without any fear of repercussions for accessing and discussing information and ideas.
On 23 July 2018, an anonymous individual sent e-mails containing death threats to the personal inbox of Natal'lya Radzina and the official mailbox of the Charter'97 website. In the emails, Radzina is warned that she is being followed and that she only "has a few days left".
The Charter'97 website is one of the oldest and most popular independent online news outlets in Belarus. The website provides wide news coverage and commentaries on issues that are often overlooked by the mainstream, state-owned media. In 2011, Natallia Radzina was arrested in Belarus in connection to her work on false accusations of organizing mass disturbances. She had to flee the country after being released from pre- trial detention. She has been living in exile since, and has continued working for the Charter'97 website from abroad.
Without prior warning, the authorities in Belarus blocked access to the Charter'97 on 24 January 2018. The decision was confirmed in an interview by the Deputy Minister of Information Ihar Lutski who did not give any specific details as to why the website was blocked and whether there were any measures that could be taken to overturn the decision.
In February, Pavel Levinau, a human rights defender from Vitsebsk, tried to challenge the blocking before the courts and filed a lawsuit against the Ministry of Information. In his complaint, Levinau demanded that the authorities reinstate access because it violates his rights to freedom of expression and free access to information. On 8 February, the Central District Court in Minsk refused to hear his case stating that it fell outside of its jurisdiction. Levinau appealed this decision at the higher instance court, but on 29 March the Minsk City Court issued a similar decision and refused to hear the case. There appears to be no other effective recourse to challenge the website's blocking.
Charter-97 editor-in-chief Natallia Radzina has given notice of the threat to the information resource's work because of dramatic reduction in in funding.
DONATION VIA PAYPAL:
MULTI-CURRENCY ACCOUNT FOR ASSISTANCE:
Bank's name: Bank Millennium S.A.
Address: ul. Stanislawa Zaryna, 2A, 02-593, Warszawa
IBAN: PL 97 1160 2202 0000 0002 1671 1123
SWIFT: BIGBPLPW
Name of the account holder: Fundacja "KARTA '97"
Purpose/title of payment: Donation for statuary aims
You can contact us by the e-mail charter97@gmail.com