Human Rights Watch Condemns Blocking Of Charter'97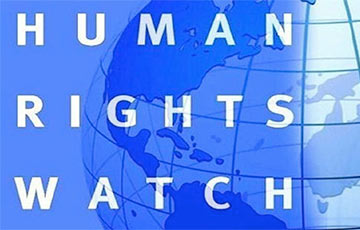 Belarusian authorities continue to persecute and pressure сivic activists, lawyers, human rights activists and independent media.
This is the conclusion Human Rights Watch made in its annual report on the human rights situation in the world.
HRW draw attention to the blocking of the independent web sites of Charter'97 and the Belarusian Partizan and condemned amendments to the law on mass media on the elimination of the anonymity of commentators, calling these demands "redundant."
HRW mentions numerous cases of detention of journalists in 2018, including 18 detainees in the BelTA Case.
In addition, the organization recalled record amounts of fines to Belsat journalists for working without accreditation, persecutions of freelance journalists, a search in the apartment of the parents of the blogger Stsiapan Sviatlou (Nexta), an arrest of the journalist Dzmitry Halko in April, a criminal case on alleged tax evasion against Ales Lipai, the now deceased founder of BelaPAN.
Human rights activists reminded that Belarus remains the only European state with the death penalty. The families of those executed are not informed about the date of execution and the place of burial.
The HRW report also mentions that police detained at least 110 people "in connection with the peaceful protests that the opposition traditionally holds on Freedom Day in Minsk and other cities on March 25." Uladzimir Niakliayeu, Mikalai Statkevich, Viachaslau Siuchyk and Maksim Viniarski were arrested for 10 days before the rally.
Human rights activists also note the replacement of criminal responsibility under Article 193.1 of the Criminal Code (participation in the activities of an unregistered organization) with an administrative one.
– The authorities, continue using various excuses to refuse to register independent groups and opposition parties. In April, the Ministry of Justice refused to register the Belarusian Christian Democracy party for the seventh time, alleging there were technical deficiencies in the application.
HRW also mentioned the conviction for tax evasion in the REP trade union case. Hennadz Fiadynich, the head of the organization, and Ihar Komlik, an accountant, were sentenced to four years of restraint of liberty with a ban to take leadership positions for five years.
It will be recalled that on September 3 editor-in-chief of Charter-97 Natallia Radzina announced the threat to informational resource cause by drastic reduction in financing and called readers for solidarity. Ways to support the website:
DONATION VIA PAYPAL:
MULTI-CURRENCY ACCOUNT FOR ASSISTANCE:
Bank's name: Bank Millennium S.A.
Address: ul. Stanislawa Zaryna, 2A, 02-593, Warszawa
IBAN: PL 97 1160 2202 0000 0002 1671 1123
SWIFT: BIGBPLPW
Name of the account holder: Fundacja "KARTA '97"
Purpose/title of payment: Donation for statuary aims
You can contact us by the e-mail charter97@gmail.com