He's Oh So Controversial
31
Iryna Khalip
11.10.2019, 9:13

16,525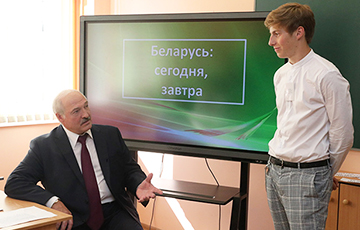 The dictator talks weirder and weirder nonsense.
Explaining Lukashenka's quotations is quite a pointless business. That is why, if he says something important in terms of geopolitics, there's no need to hurry to comment or analyze his words. All you need to do is wait a little, and Mr. Lukashenka will inevitably say something completely opposite by sense. Belarusians know this and usually don't rush to comment. Neighbours do, as a rule. There's no sense in this though.
On October 8, Lukashenka made a speech at the Minsk Dialogue conference, and stated the following with regard to the situation in Donbas: "Don't say after me that this is not a conflict of Russian and Ukraine. The people here are fully aware of the situation, such statements are of no need." This is of course quite a sensational remark, at least, for everyone outside Belarus. There was a rapid reaction from Moscow - Dmitry Peskov rebuffed immediately: "We can only disagree with this statement here, because the conflict in Donbas is Ukraine's domestic issue. Russia has never been, is not, and will not be a party in this conflict."
It would be better if he hadn't hurried and listened the whole speech. It would turned out then that there was no need to comment, and nothing to comment on anyway - Ukraine, apparently, needs to be "treated" from America's influence: "When I discuss the issue with my friend Vladimir Putin and the others, we say that we in the USSR were fighting all the time against the West, NATO, there was this struggle. And today we simply gifted Ukraine to our enemies, our rivals. The Americans and NATO should thank us for this, and I think they do, when they speak about it among themselves. But today, this conflict has remained solvable, because we have a diagnosis, and all we need to do now is treat it."
Here we go. The diagnosis is "Ukraine has been gifted to America". It is only possible to treat it till full recovery if friend Vladimir Putin helps.
There's no one else to help, because, as Lukashenka said in the same speech, "Belarus, Russia, Ukraine remain something indivisible. I am not saying that we are one people, as this makes some freak out. In fact, we are one people. And we are leading a war, unable to figure things out. Europe seems to be helping. Well, let them help, as long as there is result!" That means, representatives of "one people" are at war with each other, and this actually means civil war, if we think about the wording.
It always happens like this, one one loud phrase is pulled out of context. It becomes a sensation, although in the context of a large speech this remark may not stand out particularly. Herein, the text of Lukashenka's speech, prepared by his press-center in advance, contained only one paragraph about one people. Not a word on how Mr. Lukashenka and his friend Vladimir Putin gifted Ukraine to America, or about Russia being a participant in the war in Donbas.
It needs to be realized that Lukashenka's verbal statements are like an introduction into the world of big fantasies. Only in the last month, he managed to inform the humanity that Elon Musk personally gifted him a Tesla car: "I have an electric car, Tesla, I test it sometimes. Musk gave it to me as a present. He saw me on a motorcycle and said "How come your President is riding a two-wheeled thing?" Musk refuted this beautiful story on Twitter with a laconic "Uh no".
Also, Mr. Lukashenka said that Melania Trump has run off her legs in search for Belarusian flax goods, asking where she could buy all this.
Also, that Minsk will become the capital of the USA soon.
Also, he has said recently that he always wanted to get to work by bicycle, but they elected Zelensky, so the bike is not an option, because he doesn't want to copy the Ukrainian president. Apparently, he fails to notice that he had spent a quarter of a century in the armoured car before they elected Zelensky and his bike.
That very quarter of a century at power, which falls out of the context of the contemporary European history, Aliaksandr Lukashenka tried to present as an advantage at the same Minsk Dialogue conference: according to him, Belarus has been a "donor of stability" during all this time. This is a perfect recipe of stability, I should say: the power should never change, while those standing for the change thereof, should disappear either from politics, from the country, or from life. And there will be bliss.
Iryna Khalip, Novaya Gazeta