Minsk Resident: Why Does State Impose Life Tax On Me?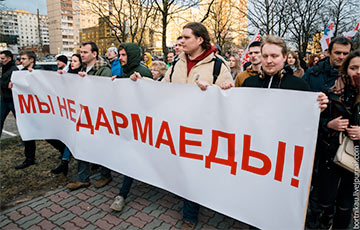 Ihar Yakshevich wants to be expelled from the base of the "parasites".
Ihar Yakshevich has already made three attempts to get excluded from the base of those "not employed in the economy" through the administration of Maskouski district of Minsk, the praca-by.info website writes.
The man sent a complaint to the Maskouski district court of Minsk with a demand to exclude him from the base of "parasites". Prior to that, the Minsk resident had made the same request to the Maskouski district administration three times.
"Your appeal was left without consideration due to the fact that the repeated appeal has been filed and it does not contain new circumstances relevant to the consideration of the appeal on the merits," - first deputy head of the Maskouski district administration Tatsiana Kaliadka informed.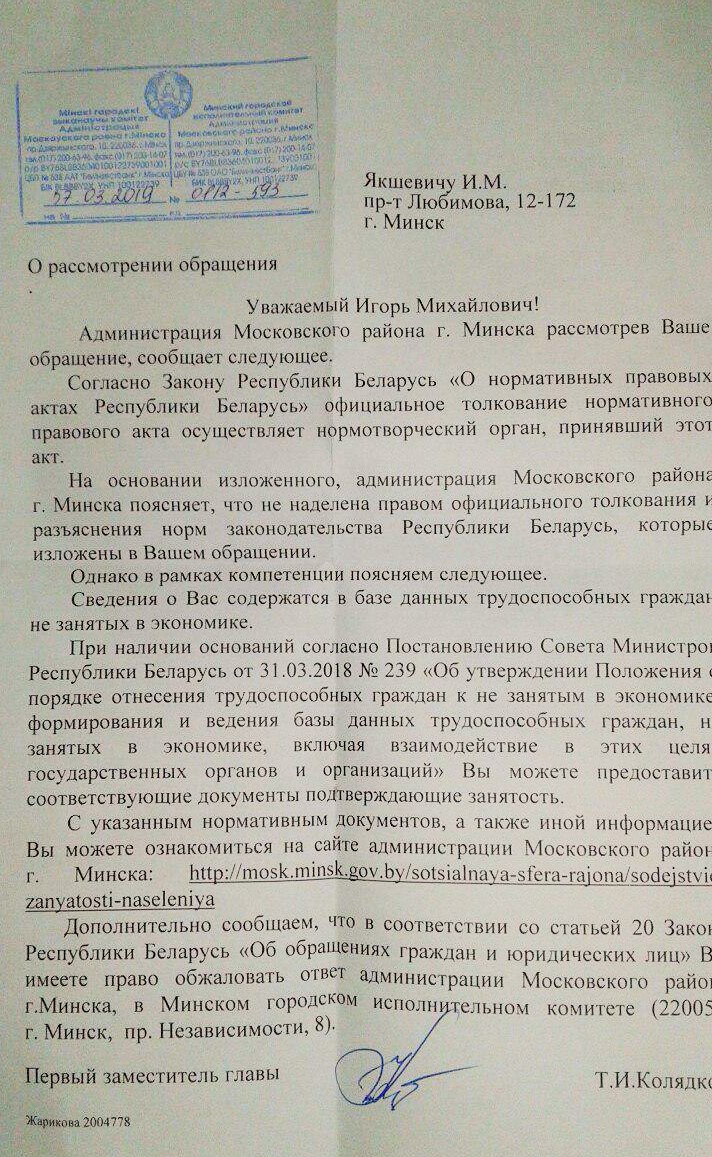 - The Maskouski district administration of Minsk has brought to a close the correspondence with Ihar Yakshevich, who is registered in the database of citizens "not employed in the economy". Deputy Head of Administration Tatsiana Kaliadka refused to exclude Ihar Yakshevich from the base and notified on suspending correspondence regarding this issue. As we can see, the entire power hierarchy shrinks from solving the problem of "parasites", - legal inspector of REP trade union Yury Beliakou believes. - Yakshevich appealed to the Maskouski district administration three times. The Executive Committee reacted very energetic to the first statement: the Minsk resident was offered a job as long as he withdrew the statement. The second appeal was not even registered in the executive committee. And the third one received an absolutely inane answer. The traditional technique for Belarusian officials, although it violates the Constitution of Belarus.
- Nobody thought that the USSR would fall apart, but it fell apart. And this power is not eternal, I really want to believe in it, otherwise there is no reason to live, - Ihar Yakshevich says.
As you know, the terms of 100% repayment of utility bills for the "parasites" have been extended by six months - until May 1, 2020.
- Fear, "elections" are ahead - I have no other explanation. Water heating costs Br5-6 (for some people - a lot of money, for others - not so), and 100% coverage would be Br30, if not more. And there would be a big wave of discontent. But they did not dare to whip up tension on the eve of the parliamentary and presidential elections, - Ihar Yakshevich said.
The Minsk resident intends to do everything possible to achieve his expulsion from the base of "parasites":
- I am a citizen, not a "parasite". I'm not asking the state to pay me rent from the sale of oil products, so why does the state impose a life tax on me?