Ukraine Plans Re-Dislocation Of Troops Considering Threat Of Russia's Attack Through Belarus
4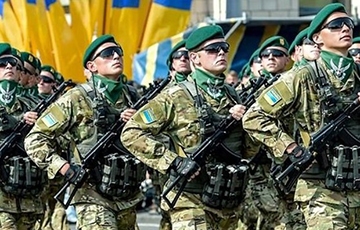 Ukrainian experts believe that Russia is preparing for widespread military aggression.
Ukrainian Foreign Minister Vadym Prystaiko says that the Ukrainian authorities, together with their partners from the European Union and NATO, are analyzing the risks of a possible Russian attack based on the observations of the movement of the Russian troops towards the border with Belarus, Radio Svaboda reports.
"We are watching what is happening. Not only with our partners from NATO, from the European Union; accurate work is being done, satellite observations are being carried out, and intelligence is working to understand what kind of threat actually exists and what the Russians want to achieve when they conduct these maneuvers; how many bases have been created for the exercises; how many troops and forces will remain after them; how, for example, the divisions of the Ministry of Emergency Situations, the Military Railway Troops, the Ministry of Internal Affairs of Russia are involved, how they are moved, how quickly they go through and in which sections. This does not remain without our analysis", said Vadym Prystaiko today in the Verkhovna Rada of Ukraine, answering questions from the deputies.
The Minister of Foreign Affairs of Ukraine emphasized that in resolving the situation in the Donbas, President Volodymyr Zelensky relies on the Minsk agreements reached five years ago by the previous Ukrainian authorities.
"How much do we feel that Russia is ready to move?" It is for this that the President of Ukraine Zelensky is now trying to do everything possible to hold a meeting in the Norman format. We hope that next month such a meeting will take place and we will witness our readiness to move in all four areas defined by the Minsk agreements", Vadym Prystaiko added.
Russia's preparation for a large-scale invasion in Ukraine was announced by Deputy Chief of the General Staff of the Armed Forces of Ukraine Oleksii Taran in an interview published today by one of the Ukrainian online media outlets.
"Russia is preparing for a widespread military aggression. These plans are quite obvious. The Armed Forces of Ukraine are preparing accordingly to recapture it on all borders of Ukraine. This applies not only to the clash line (in the Donbas - edit.), but also to other areas, starting from the border with Belarus and further past the Crimea and Bessarabia. Today we have a sufficient number of trained governing bodies capable of planning and commanding troops in these important areas", said Oleksii Taran.