Authorities Take Offense At Words 'Kolkhoz Dictatorship' On Volha Nikalaichyk's Agitation Posters
60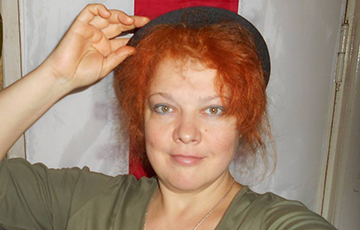 With every day of the campaign, officials are becoming more and more nervous.
The European Belarus civil campaign has another warning now. The authorities did not like the words "kolkhoz dictatorship" on Volha Nikalaichyk's agitation posters, the press-center of the civil campaign reports.
Today, the activist of the European Belarus civil campaign was summoned to a meeting of the election commission of Uruchcha electoral district #109. The main complaint against Volha Nikalaichyk was related to the words "Basta" and "kolkhoz dictatorship", which sounded at the picket, and were written on posters. The activist told how the meeting of the commission went:
- Yesterday, the chairman of the elections commission Andrei Basak approached my picket and demanded to stop campaigning. I asked for a reason. He started shouting,saying we could not use the word "basta". Then he said that the use of the phrase "kolkhoz dictatorship" was unacceptable. Passers-by stood up for me, and made him leave.
Today I was summoned to a meeting of the commission, where they accused me of "inciting social hatred" and "insulting the inhabitants of agricultural towns." I replied that in fact they were insulted by only one person who deprived them of normal salaries and drove them into slavery. This is Lukashenka. After that, the chairman of the commission began shouting that I had insulted Lukashenka as well in my campaign materials. This circus ended in a warning.