Odious Waste of Billions of Dollars Is About to Happen, Economist Says
80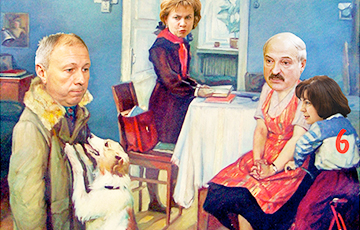 This is much more wasteful than what was done in the USSR.
The government has determined that 31 districts are "lagging behind in terms of socio-economic development" in Belarus. As of the beginning of the year, almost 600 thousand people lived there, only 250 thousand of them were recognized as "employed in the economy".
The authorities also developed a plan to "save" these regions. What is behind such "plans" and can they be implemented?
Economist Leu Marholin answers questions of Charter97.org.
- The first striking thing of "plan" is that the authorities always aim to carry out "industrialization" by creating large production facilities. Doesn' t it look like the USSR of the 1930s, not Belarus of the 21st century?
- I don't think it's deja vu, because it's not what it was in the USSR in the 1930s. It's much worse. It is noteworthy that the Soviet Union had an "iron curtain", and everything that was produced was consumed inside.
Therefore, it was reasonable to build any enterprise in any region and be sure that its products would be sold. In the 21st century, there is such a notion as competition.
We have tried to create some production facilities many times with the help of state investments. We have built and reconstructed cement plants and woodworking industry...
By the way, the woodworking enterprises that were "reconstructed" were mostly located in such small towns and district centers. But it failed.
An entrepreneur should invest, not the state. An entrepreneur should be involved. If you want him/her there, create conditions. At the same time, some local conditions are not enough. We need a favourable investment climate throughout the country. Any entrepreneur should know that tomorrow the production built from scratch will not be taken away.
Neither local nor foreign entrepreneurs have such confidence.
Therefore, the authorities are preparing another "breakthrough", which is doomed to failure.
- Then why are the authorities going to fall into the same trap twice?
- They have no other formulas. You see, they have very limited tools. What can they do with the area with 30 thousand people and only 2 thousand jobs?
If it had been a market economy and a democratic way of life, it would probably have been decided to transfer people to other places, to help them to re-qualify, to help them with housing, normal unemployment benefits, and appointment allowances.
But we have different approaches: we need to build an enterprise. No one cares whether the product is sold or not.
- The authorities emphasize that they bet on the extractive industry enterprises - Belaruskali and Slavkali of Gutseriev. Moreover, Slavkali is called an "innovative project". What can be "innovative" in an ordinary extractive industry?
- There can be none. More or less modern technologies can be used, but this is not what creates an "ecosystem" in the 21st century.
And how can Belaruskali help the regions to revive? It will be charged with the next fees to "help". It is hard for me to imagine how an enterprise can help a region. They may transfer some money to the district and what's next? This money will be "invested" in a production which is failing...
It will be just a waste of money we've been observing for 25 years.
- Mass media often calls Gutseriev a friend of Lukashenka, who gives him expensive gifts like Maybach and so on. Can we say that private interests of Russian business and Belarusian officials are realized under the guise of "saving" the regions?
- Classical "kickbacks" look a little different - at least in the Russian version. Serious funds are allocated from the budget and such "friends" are allowed to spend them.
If we see that the money allocated from the budget is used by Gutseriev, it means that it is really "milking".
But our country "offers" entrepreneurs to share a little bit. That is, it simply milks them. Lukashenka has practiced it even with his friends.
It differs a little bit, but as a rule, the result is the same. It will not bring good anyway.
- Recently, the National Audit Office acknowledged the failure of the "modernization" of cement plants with a loss of more than a billion dollars. Now it is planned to create 282 enterprises in problem regions. What amounts, in your opinion, can be spent this time?
- To everything clearly, one needs to remember the failures in the "modernization" of woodworking and dairy production...
We can calculate how much money is spent this time: 282 companies - 100 jobs at each of them. It takes around 30 thousand jobs.
To create a modern good job, it takes about a million dollars. That is, the entire program will require about $30 billion. It has no guarantees of success. Huge sums of money can simply go with the wind.
- What are the chances that officials will create "Potyomkin villages" in the regions to hide these losses?
- I do not doubt that this campaign is doomed to failure.
But "Potyomkin villages" are not built in our country. It may bring troubles.
Therefore, I believe that something will be done, but it will not work at all or will be inefficient.
That's all. This is what I think.
- What to do with the development of regions in Belarus?
- My professional advice has probably been unchanged for 15 years already. It requires systemic reforms. Moreover, not just economic, but the whole system: both political and socio-economic.
As long as it does not happen, there will be no "breakthroughs". Our "growth" will alternate in 2-3% with the stagnation of 0-1%, with a small drop in production if there are no excesses. But there will be no normal growth.
We will increasingly lag behind our neighbours.