The Delay for "Parasites": Who Lost Nerves?
37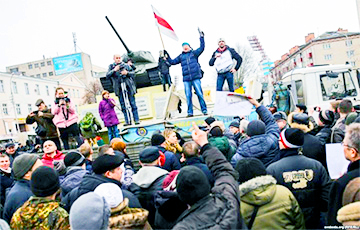 The protests of 2017 played their part.
In Belarus, "the base of parasites" has not been able to be fully introduced. "Parasites" will pay in full for utilities since May 1, 2020.
It will be recalled that from October 1, "uninvolved in the economy" had to pay for gas supply and heating in full.
Deputy Minister of Labour and Social Protection of Belarus Andrei Labovich explained the "delay" for "parasites" with an inability to process all the information about the unemployed in the economy. According to the official, it comes from almost 50 sources.
Charter97.org asked Maria Tarasenka, an activist of the REP trade union REP from Homel, to comment on the situation with "parasites".
- The authorities sent employees of the utility service, the Ministry of Emergency Situations, and teachers to find out "parasites". The Ministry of Education also created a "student base" to exchange information with the Ministry of Labour. Why did the affair of the authorities fail?
- In this situation, they will not succeed. Firstly, the base itself was initially created under the careless approach. Everyone was enrolled, including people who had already died. Mothers on maternity leave and people of pre-retirement age were registered there. First, they "found" 500 thousand, then they tried to sort it out and reduced it to 425 thousand.
There are a lot of collisions. For example, people who have been retired for more than 20 years also received high utility bills and notices that "you are added to the database of the unemployed in the economy". Such egregious cases have occurred.
The authorities are playing a strange game, they do not have a clear algorithm. However, they somehow managed to find about 170 people "not employed in the economy" among homeowners in the Zheleznodorozhny district of Homel, where I live.
They may be not satisfied with the data they collected - too many people have started to apply to the commission to be expelled from the base. It's unclear what numbers the authorities will deliver next time.
Secondly, the authorities observe resistance to this mess. Independent human rights activists and lawyers from the REP trade union say that the decree will simply fizzle.
Now they play our nerves. First, they made the ball rolling, people got nervous, and now they decide to "loosen the leash". The stick and carrot policy: we held the leash, pulled it up, and now we loosen it. Maybe some have lost their nerves. Or maybe they want the situation to be stressful.
We should stay focused. We need to observe other steps of the authorities. I guess that protests and scandalous cases won by the REP trade union in 2017 made a difference.
- Can the citizens whose deceased relatives were also included in the "base" demand compensation?
- These cases require attention. Relatives must demand all the officials guilty for this to be brought to justice. They must face consequences for their actions, for the claims they have decided to make against the deceased. But they still only make excuses.
One can write anything on paper, but you should look these people in the eye! They demanded employment from people who passed away long ago. In such situations, relatives need to bring it to a logical end - to demand compensation. Otherwise, after a while, they will start sending cynical "letters of happiness" again. There are no guarantees. Again, they will refer to some failures. When that case comes to court, maybe they will register this fact.
- In your opinion, are there any other reasons for the "delay"? Can we say that the authorities did not dare to take such a step during the "parliamentary" and "presidential" election called "mayhem" by Lukashenka?
- Frankly speaking, I don't think it plays any role. Everyone knows that we don't have "elections". The authorities do not care too much about their reputation. If they did, they wouldn't have issued such decrees. There are so many scandalous cases but no one resigns.
- In your opinion, will payments in full be introduced in May 2020 or will the authorities find new "reasons" for the delay?
- II do not know. They will set mouse's teeth on edge. The authorities need time to make some decisions. They may decide to "adjust" the database once again. I believe that the introduction of new tariffs will take place after May 1, 2020.
- While working on the "database" the commission got a lot of personal data about Belarusians. What can people, whose rights have been violated, do?
- People need to stand up for their rights. They need to address independent lawyers. The REP trade union helps people who are in trouble. We can fight together. Some people are ready to help. We need to address them and not leave it unattended. Qualified legal assistance is significant.
Secondly, the authorities must see that Belarusians are not silent creatures, we are human beings. We will not let them do this to us. Otherwise, things will get worse in future. After all, we have the feeling of human dignity.
- You are known as the "defender of parasites" in the Homel region. In your opinion, if payment in full had been introduced at the beginning of the heating season, how strong would the indignation of people have been?
- It would have been enormous. This increase would inflict huge damage to the budget of each particular family. It would have caused another wave of discontent. I don't know specifically it would look like, but I'm sure there would have been a protest.
This is a hot-button topic. The reaction of people both on social networks and in the press indicate it. Special tariff rates for "parasites" are a very popular and painful topic at the moment, given our economic situation.
Now many enterprises cut the number of employees or close down. Homel closed down Khimizdelia. About 200 people worked there. It means other two hundred "parasites".
Even the employed say that it is challenging to find a job in regional centers. Especially it concerns people over 40 years old. It sounds like a verdict in our country. They cannot find a job, even if they have a good education and work experience. A person of this age has both professional and life experience, but no one needs it. This person becomes a hostage of the decree. Such a situation cannot be tolerated. The delay is not an option. A total abolition of the decree is required.