Pavel Selin: Real Dramedy Was Happening To Me In Minsk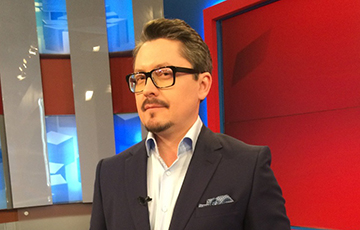 A big interview with an honest journalist.
A renowned Russian journalist and TV presenter Pavel Selin in an interview with Charter97.org told for which story he was deported from Minsk under Lukashenka's personal order, how the Russian television propaganda was created, what conversation he had with the Belarusian Interior Minister in the store, and whether YouTube would defeat dictatorships worldwide.
The journalist also told how he had been making a film about the legendary musician Yuri Shevchuk, which he recently presented in Minsk, for 11 years, and why he considers Shevchuk to be #1 poet in today's Russia.
- Pavel, you used to work as an NTV correspondent in Belarus in 2001-20003. Then you were deported under Lukashenka's personal order. How come you had irritated him this much in just two years?
- We disliked each other at once, since the very first minute we met. In fact, this is a very funny and tragicomic story. When I arrived in Minsk, my colleagues from other bureaus of the Russian television channels warned: they say he will be testing you. He had a manner of testing all new Russian reporters. It happened the following way: Lukashenka deliberately called a person by the wrong name. For example, he could say Maruna instead of Maryja, or Anatol instead of Aliaksandr. It seemed somehow awkward to correct and argue with him, but when they got into this trap, people went about with these invented names.
In fact, this is very funny, because he had dossiers for every journalist, Lukashenka received printouts of stories that came from Minsk on Russian television channels. It is clear that he knew all the names, it was a kind of a joke for him.
It happened so that at the first meeting with the press I came up, asked a question, introduced myself: "Hello, Aliaksandr Ryhoravich, I represent the Russian NTV channel." And he tells me - "Yes, Piotr". Being ready for this, I replied: "Sorry, I'm not Piotr, but Pavel". Lukashenka glanced at me with a heavy look and answered: "Yes, Pavel". Since then, our bureau in Minsk began to be called the Peter and Paul Fortress.
Of course, this is all very funny, but if you remember, from 2001 to 2003 many events took place in Belarus, the coverage of which was very unpleasant for the Belarusian authorities. These were constant pickets, rallies, chains of memory with portraits of missing politicians. In that time frame, disappearances occurred pretty recently: Zakharanka, Hanchar, Krasouski, Zavadzki disappeared, Karpenka was killed. Only a year or two passed since those events. Therefore, everything was seething, very painful, and there were events, rallies, actions that I covered as an NTV journalist. All the rallies, all the mop-up operations, all the beatings of people - all this is now taking place in Moscow. Then, there was nothing like this in Russia. This is a separate story for conversation, because when I returned, I told my colleagues: "Look, we may soon have the same thing." Apparently, I have made an ill prophecy.
In general, it was a rather difficult time in Belarus and I covered it. I covered things without hiding anything, and the Belarusian authorities did not like this much. I began to receive one warning after another. At first - oral, then written, second written and it all ended with a story about the funeral of Vasil Bykau, which was the last straw.
Everything that happened to me in Minsk was a real dramedy. I received the first written warning for the plot about "little Niggers".
After yet another so-called election, Lukashenka said that a plot was being prepared against him, and that he would jail ten directors of Belarusian plants. In fact, this is a terrible situation: prison, broken lives. But I wrote a story where I said that this situation reminds me of Agatha Christie's "Ten Little Niggers" detective story: everyone knows that they will be killed, but no one knows who will be next. And the situation was very similar - they jailed directors, and no one knew who else would catch a stray fist.
They summoned me to the MFA, and then Spokesman Pavel Latushka, the future ambassador of Belarus to France, the Minister of Culture and the current director of the Kupalauski Theater, a smart, educated man, my peer, looked at me with a transparent Komsomol-activist look and said: "We are giving you a warning for the plot about directors being arrested." I asked why, and he replied: "You compared Belarusians with niggers in this plot." And we look at each other. Honestly, I felt like I was seeing a psychiatrist, but it was just the opposite - I was sane, and the doctor was mentally disturbed.
What more can I say? Everyone understood, oh God, even this official understood that this was crazy. Legalized insanity. And during these three incomplete years, I managed to write down several stories that Mr. Lukashenka did not like very much.
Another story. I was going to one of Lukashenka's annual message speeches, it was quite hot and I put on a very light suit. I came, sat in the press box, and everyone was wearing dark suits. I was a real black sheep. Lukashenka, clinging to my light suit among the stockade of dark bureaucrats, devoted 10-15 minutes to me personally. It seems to me that this was a real record when the president of the country personally reprimands a foreign reporter.
He told me how bad I was, that they sent me here, and I behaved like that. It was clear to me that it would not end very well and that it all ended on a plot about Bykau's funeral. The great Belarusian writer came to his homeland and suddenly died. There are still big questions - whether it was a natural death, was it really so unexpected. I made a story about all this frenzy, about the disgusting things that happened at his funeral, and was deported.
And this was preceded by a very interesting story. There was great turmoil at Bykau's funeral, the cops drove cars to the avenue so that it was impossible to carry the coffin with the body of the writer. The vile story of this funeral came out. The authorities tore the white-red-white flag off the coffin, tried to put the red-green one on, but his son did not let them do it. I recorded all this, realizing that they could deport me for this. But I understood that if they send me out of the country, this will be done for a good reason, for telling the truth.
In all this turmoil, I lost my cameraman, and I had to record my words in the frame. I saw a cameraman of a neighboring bureau running past, and asked him to make a video. He said: "Oh, yes, no problem." We had very fraternal, friendly relationship with all the Russian news bureaus in Minsk. He took out his videotape, inserted a new one, and we recorded my words.
I came to the bureau, mounted the plot, sent it to Moscow, it went on air. As it should be with normal men, and first of all TV men, I went for cognac for Seryoga. After all, you need to thank the person for their help. Right near our bureau in the Victory Square there was a small shop. I go into it, it was my turn, and a few more people were standing behind me. I gave the saleswoman money in my hand, and my phone rang.
For the first time in three years in Minsk, I saw the words "unidentified number" on the screen. I have never seen this, I didn't even know that such a function existed. I picked up the phone and there was just a stream of insults in my address, the key message being "at last you slipped, lied, and all this went on air, now we'll definitely take you ...". I can't give you a precise quote, because there was only foul language, and everything was said in a very evil manner.
The most important thing is that I didn't understand who was saying all this. I tried to break through the swearing, and asked: "Who are you, at least tell me this." "This is the Minister of Internal Affairs Navumau," the man in the phone answered and continued to swear. I am a very calm, tolerant person who hates to quarrel, but here I just flipped my lid. Well, first of all, the accumulated fatigue played its role, they talked to me like that and so I answered in the same style, having told him to "go to hell with all his affairs and government bodies". We talked for a few more moments, and then he hung up. I realized at that moment that I was in a completely empty store, and the line behind me had disappeared. Not even a saleswoman was around. And I was standing with outstretched hand with money in it. I said: "Hey, is there someone alive here, give me cognac!". A pale saleswoman climbed out from somewhere, gave me a bottle of cognac and took the money: "Please leave quickly, take your cognac and leave."
About 30-40 minutes later, Lukashenka's Spokesperson Piatkevich called me and said in a sad voice: "Pavel, probably that's all." And I thought it was good that I was informed, and not "dumped" somewhere quietly in the forest. And for this, Aliaksandr Ryhoravich, many, inhuman thanks.
- How did you reach the understanding that Russia would follow Belarus' footsteps?
- I had a feeling that we were doing the same things. I have already said this, but I will repeat: I have such a concept - the Belarusian-Russian time loop. Everything that happened in Minsk was always inevitably repeated in Moscow. All the bad things that happened in the capital of Belarus, like mass arrests, beating people at rallies, dispersing and destroying the free press, independent journalists, unwanted politicians. You see for yourself - they killed Boris Nemtsov, who was my friend. They killed him brazenly, right near the Kremlin.
Then it became clear that both the Russian leadership and the whole system of the Russian life were going in the same direction. Yes, it seemed to everyone a paranoid story that everything that was happening in Moscow had already been worked out in Minsk.
But do not take this into account - take historical facts, everything is true: toughening the situation, building a power vertical, killing objectionable journalists and politicians. Thank God, politicians did not disappear here, but there were murders, including of journalists and human rights activists. Look what happens with the protests in Russia - the dispersals are unprecedented in their cruelty. People come to peaceful demonstrations, do not smash windows, do not set fire to cars, do not resist the police - nothing. But they get broken arms and legs, damaged kidneys, huge prison terms for aiming a blow at a police officer, or throwing a plastic cup. For this, people get real prison sentences. I observed all this in Minsk and, unfortunately, my sad theory is confirmed.
- In early 2000s, the NTV TV channel where you worked was absolutely free and liberal. Today, it is impossible to watch it - nothing but the horrible Putin's propaganda. How has this transformation happened?
- Everything is very simple. The most important event occurred in 2001, when the TV channel was simply "seized", they grabbed it, they took it from some people and gave it to others. Roughly speaking, they ousted the owner of the TV channel, Vladimir Gusinsky, ousted Yevgeny Alekseevich Kiselev, and set up their management team. To be honest, it also did a lot of good. From 2001 to 2004, at least there was Parfenov's program "Namedni" - an open, democratic, in a good way, journalistic, oppositional. The journalist who today is impossible to imagine not only on NTV, but on any of the Russian television channels, probably, except for Dozhd and some other non-federal television channels. The process was mixed, there was a lot of bad, but also a lot of good.
Another interesting point: even looking at NTV branding, this green ball, which was located on the channel's logo, became smaller every year, and then became red-yellow, blood-red. From green to bloody and disturbing. There's something about it.
The authorities, however, had the task of leaving only the packaging from the once liberal channel itself, turning its content into an absolutely criminal "zombie-TV" of a low-life orientation. Once the channel of the Russian intelligentsia turned into the TV channel dealing with the most base instincts, but at the same time they left the packaging.
Every year, despite our resistance, the territory of free thought, free journalism, shrank more and more like shagreen skin. In 2012, everyone was dispersed, the last crumbs of liberal NTV were destroyed, in particular, the prime broadcasting department, where programs such as "Profession Reporter", "Protagonist", "Central Television", my talk show "The Last Word" and " NTVshniki ", where I worked as the Chief Editor.
The last crumbs of liberalism that remained at the channel in 2012 were destroyed after the protests in Bolotnaya Square. The authorities realized that the liberal part of NTV, with some mass protests, would become the voice of the opposition, as it happened once with the Fifth TV Channel during the Orange Revolution in Kyiv, when it became the mouthpiece of the Maidan and popular outrage.
Therefore, our channel was just mopped up. I worked at NTV for 15 years: from a freelance reporter in the Voronezh region to a talk show host on my TV channel. And then the head of the personnel department called me: "Pavel, thank you very much for what you did for NTV, but there is no more work for you," this is a verbatim quote. They say to you: we are better off without you. They didn't even bother to offer me to leave as some ordinary correspondent. Only the "there is no more work for you" stuff.
We can say that from 2001 to 2012 the NTV channel was completely killed, reformatted, but this did not happen in one day. This took a lot of time with our well-known resistance.
- There are quite many videos in the internet in which the same Solovyov and Kiselev are speaking about democracy, freedom of word, some liberal things. What happened to them? How come they turned into such odious propagandists? Have you ever had to make such a choice in your life?
- Nobody actually offered me this choice. No one called and said: "Dude, if you want to live well - host this program". There was none. As a teenager, I wondered why the KGB and the FSB of Russia never wanted to recruit me. Actually, many of my fellow students were offered jobs in special services or to be secret informants. Many journalists worked in the FSB and FSK of Russia. Nobody ever offered me this, and even after this story with deportation, no one said "Pavel, work for us and you will roll in clover."
As for Kiselyov and Solovyov, this is a classic story of shifters who always keep their nose in the wind. They understand where the wind blows and how to adapt to the new realities in order to feel very comfortable.
The most interesting thing, it seems to me that these people convince themselves that they are right. I don't think, for example, that with my colleagues and associates, the people who stood on the barricades, the people who headed very liberal editorial boards, defended freedom of speech, something happened, they tumbled in the air, landed on completely different paws and started saying what they are saying today. Namely - the imperialist hosanna, the anthem of the modern monarchy, which today exists in Russia.
I think that they somehow convince themselves that they are doing the right thing, find some arguments, like: "we have a country that should be ruled by a strong hand," "the best for the country is Stalin," "we don't have any democracy for it's not necessary "," it's better to sacrifice human freedom than let a country fall apart ","we are getting up from our knees, fear us". I don't think that the one who utters all this nonsense, with tremendous confidence and sincerity, comes home and thinks: "Lord, what a fool I am, what an idiot I am, what am I saying!"
I think that they come home and speak with their wives, husbands, and they echo to them: "You were so great, what you said today was cool, what democracy, what freedom of speech, well done". The only thing I hope for is that it pops up in their subconscious mind that a couple of years ago they said completely different things. But it seems to me that they even crush such thoughts within themselves: "I was a young fool, I didn't understand anything, people change."
I even wrote a poem in this regard:
"We are living in a Zaldostan bomb site,
Surgeons rummaging through our brains at night,
Nuclear ashes getting thicker as we walk,
The "Sunday Night" is dead-still on the clock.
Propagandists are getting stronger every day,
The "evening bullshitter" has something to convey,
So tell me, how we let it happen, dude,
That Homeland is so fond of him, not you.
How did we let profession out of sight?
Why did we stay away and let it die?
We gave it to some chickens with vile eyes,
And moved aside to watch it agonize.
***
Well, this is about my wonderful colleagues who are doing all this. The poem is not fully ready yet, I will surely recite it to you when I'm done.
- Fortunately, there is some different journalism in the world, and the people who remain loyal to their values. You were friends with Aleh Biabenin, the founder of our website. What did you two have in common?
- Aleh, of course, was my friend. Yes, we did not meet every day, but at each meeting I felt that this is my man, who I really like. A man whom I madly respected and honoured. First of all, due to the fact that he, living in Minsk, showed some incredible inflexibility.
You need to understand that you are meeting a person, laughing, giggling with him, telling jokes, exchanging funny stories, remembering your favorite films, works, and the next day, at the next protest, your friend and dear person gets beaten, injured, dragged into a paddy wagon, beaten with batons. You understand that there is a big difference between you and him, how much you are not like him. You understand what will and strength of mind you need to have in order to go out under these batons to protest. Then I absolutely did not understand why the journalist came out and participated in the protests, I didn't have such a great "fed up", "It's impossible to endure!", "This dictator will never leave!" feeling. There was no feeling that this presumptuous power would constantly suck blood and grunge, and you will try to do something against it.
Aleh just hit and shocked me with this back then. It would seem: we were peers, people of the same views, very similar in life, but he - can go out under the batons, but I still did not know if I could.
In all his tragic fate, Aleh remained a fighter, an unbroken man. This terrible story of his murder, a staging of the so-called suicide, seems to me proof that Aleh remained true to himself to the end. I did not believe for a second that he could kill himself.
This is indicated by stupid, deliberate evidence that was left by those who killed him. Aleh could not kill himself in this way. An incredibly wild amount of traces, evidence left just say - "you think this is suicide, but we will show you that this is murder".
The same "Belarusian Balm" left at the scene of the murder. This is cheapo stuff Aleh would never drink in his life. He was well versed in alcoholic beverages. And then, hanging himself in a way that people hang themselves in cells out hopelessness - standing on their knees. You just have to be on the verge of despair to kill yourself like that. Moreover, the house had a bunch of beams on which you tie a rope. In addition, there are traces of fighting and beating. I don't believe for a second that it was a suicide.
I think that we still have time and opportunity to investigate this story: who did it, how, and whose order it was. We simply must do this. This story is haunting me.
- You've said there haven't been such a strong "fed up with the authorities" feeling in Russian before. Is there now?
- Of course! This year's events, which really began with the story of journalist Golunov, and then with the elections to the Moscow City Duma, reminded me very much of the events in Russia in 2011-2012. When people were insolently deceived, when they lied them right in the eyes, like "hah, we won't let anyone pass", the Russians voted like this, and we will do it our way.
So where did the protests in Bolotnaya Square come from? All my friends, buddies, all acquaintances, not acquaintances, voted against Putin and United Russia, but they were told: "No, you voted like that, hah, eat it!"
This arrogance, boorish, royal, shameless lies and deceit, stirred the people up. The Russians organized rallies, went to the squares, because then it was impossible to live like that. Everyone understood that this power was nominal, that both the Belarusian "chamber", and the Russian "state dumas" do just what they want.
But let at least a few of our representatives, who will point the authorities on their mistakes, show a log in the eye, tell what you are doing. Let people say a little about themselves, say what bothers us. Like Borya Nemtsov, resist this wild tyranny, crazy laws on restricting the Internet, and a ban on the adoption of children with disabilities by foreigners. At least they talked about it, shouted, declared. And now they tell us: "You are nobody, we will not let your representatives go anywhere".
The protests of this summer began precisely with the story of Vanya Golunov, for whom the entire journalistic brotherhood stood up, all wrote down angry appeals, interviews, were on duty at the court and simply managed to beat Vanya back. It is the journalistic community, although we must not forget that many people remain in prisons under exactly the same trumped-up charges. Tens, hundreds, thousands. Exactly the same - they plant drugs, and a man goes to jail.
Next is the story of the elections to the Moscow City Duma. All that I talked about: arrogance, shamelessness, boorish and khanish behavior that stirred up the people, led people to the square. The point is not even in the Duma, not in the deputies, but in the inner feeling when you are trampled and mixed with dirt, when they show that you are nobody. Your business is to sit aside and approvingly watch how these bastards live on, buying another palace (not only in Russia), more yachts, some multi-hectare summer cottages, like the Hermitage and the Louvre. They show - look, eat it, we are here, at this feedbox. All this terribly outraged people and therefore they took to the square.
- The most surprising was the fact that Russian celebrities, TV hosts, the people who stayed away from politics, stood in defense of Golunov. What stands behind this phenomenon?
- I think that there are those who keep their nose to the wind and there are those who understand that the intensity of popular anger is such that it is now necessary to quickly help the authorities let off steam. Our TV presenters, female bloggers, managers of large television channels do it quickly, efficiently, with a sense of understanding of the moment. C'mon, let's call this person Tina Kandelaki (Russian TV presenter, general producer of the Match TV federal sports channel - Charter97.org). And right away, people have an understanding that if Kandelaki stands for Golunov, then they will definitely release him now. Tina will not support anyone for nothing.
And then again, look, all these propagandists on federal channels fussed. At these so-called "talk shows", and if you think about it - what kind of talk shows are those, I mean, "talk" is a "conversation", and there is screaming, fighting, humiliation, and salivating. This is a "screech show", but by no means a "talk show".
And then one of the hosts of these "screech shows" said: "Yes, here we went too far, too far, we must let Vanya walk free." And you think: "Tina was first".
We must pay tribute to the fact that among the Russian stars there are guys who sincerely advocate for democratic values. For example, rap is far from my music, but Russian rappers cause fantastic respect for their position. For example - Face, Oxxymiron, Noize MC. It would seem that you are so popular, earning huge money at your concerts. Then you stand up for someone, take to the square, sing there, and they will disrupt all your performances, concerts will be forbidden, as was the case with the hero of my film Yuri Shevchuk. He once participated in the Opposition Coordination Council (the opposition organization created in Russia after the 2012 parliamentary elections - Charter97.org), for which, as he himself likes to say, he deserves honor and respect. But what did his political activity lead to? Moreover, several of his concerts in 2012 were banned by phone call. What a lot of money, what a big blow to the artists, to the organizers, to everyone. They banned everything over a stupid, impudent phone call.
Therefore, I have fantastic respect for people who support rallies.
I don't know if anyone felt the conjuncture or was sincere, but I think that many people are really tired of what is happening. After all, these people are not poor and understand that they will not die of hunger. Sometimes dignity is much more important than material things. When you feel lawlessness, they bend you, show your place, then even for such successful people something starts to move. God bless them, this is very important.
- Now the theme of transferring the power in Russia, and the possible creation of a union state with Belarus in order to resolve the issue with one more presidential term for Putin, is relevant. Does it seem like a realistic scenario to you?
- I don't know, it's very difficult for me to say and I will answer briefly. Nobody believed that Putin would leave in due time and, as the well-known person says, their "graceful move" with his being replaced by Medvedev, showed that he was ready for a lot to stay in power. No one is leaving his post just like that.
In addition, I think that Lukashenka will not take this step. He is exactly the same person who is holding on to power by all means. I don't know what will happen there, but the story with this confederation, with this mythical "union state", which either exists or does not exist, has been stretching for a long time.
The so-called Russian-Belarusian union state is the biggest joke that could have been invented in the political theory of government. For how many years can one spend money on something non-existent? After all, this is an inflating of a huge balloon, which is either deflated or inflated. A little gets stolen by Belarusians, a little by Russians.
When I became an NTV correspondent in Minsk and saw the meetings of this so-called union parliament, it was a complete surprise for me. Indeed, they gather there, discuss something, with arrogant faces, puffing their cheeks. Some crazy budgets are spent on bringing these loafers from Moscow to Minsk or vice versa, some meetings, everyone lives somewhere. But they do not live in simple hotel rooms, all have suites, their cars, motorcades. This is pumping incredible money into something non-existent, mythical, idle.
- They have been unable to cancel roaming between the two countries for so many years.
- They cannot cancel roaming, they cannot set us a single normal joint venture that would not quarrel in wild torment. Every time something happens between Lukashenka and Putin - and everyone forgets about this so-called alliance. I think that these people like to do non-existent affairs and someone profits pretty well on all this.
- Let us talk about your movie dedicated to the personality of the leader of the Russian rock-band DDT Yuri Shevchuk, 'Yura the Musician". You were filming it for 11 years, visited dozens of cities. Why did you decide to make a movie about Yuri Shevchuk, and how come you've had enough stamina for such a long story?
- Indeed, this is a very amazing story and I would never have thought that filming would drag on for 11 years. It all started simple - I worked on the NTV channel in the program "The Protagonist" and in 2007 Shevchuk turned 50 years old. As usually happens with this hero, I missed an informational occasion, but in the anniversary year for him I managed to make a big special report dedicated to Shevchuk. In the program, I talked about the things that few knew. About the fact that he is not just a musician, not just an artist, not just a singer, poet, but also a time chronicler. It turns out that he traveled with many cameras to many hot spots, took pictures of everything, recorded it, sang for soldiers in trenches and hospitals. I made a story about his present day, focusing on the little-known part of his personality.
Yura liked this report. As usual, we shot a lot of source materials. They would have been enough for several programs, although the plot was large, 17 minutes, almost a mini-film.
Then we decided to shoot a film covering a time period of five years, starting from his fifty years in 2007 and ending with his fifty-fifth anniversary in 2012. Five years from the life of Shevchuk, from the life of the DDT, and most importantly - from the life of Russia. I wanted to see everything that happened to us, to the country, to the group, to creativity in these five years, through the eyes of the protagonist.
But with all these protests in 2012, all the opposition activity, we were no longer on NTV, because we were simply dispersed, they fired me, and Shevchuk was completely impossible to present either on NTV or on another TV channel. He was on all blacklists, on all stoplists of unwanted characters that could not be invited, it was forbidden to make reports about them.
Then in 2012, I decided that there would be no film on NTV anymore, but we had a conversation with Yura and we decided to continue shooting. He told me: "No need to rush, shoot, comprehend, put it off, and then we will continue to shoot." It turned out that it dragged on for almost 10 years, even 11. It's necessary to give Yura his due, he put up with me all this time, thank him so much, because it's very difficult to film for such an amount of time.
Of course, I did not make this film, like a reality show, every day. We filmed once a year, once every two, or even three years. We shot at some very important points in his life: in Bolotnaya Square, during the cancellation of concerts of the "Otherwise" tour, at his house, in the country, in the village, on trips, in Ukraine. In 2008, Yura traveled all over Ukraine with concerts of peace and friendship. We shot it, including in Kyiv, on Khreshchatyk.
All this dragged on for 11 years and by 2018, I will tell you honestly, I was already tired. I just didn't understand what to shoot this film for, why to shoot it, if anyone needed it. We can say that everyone cooled towards this film, we were so tired.
In 2018, I made a film for the Dozhd TV channel, which is called Love Syndrome. It is dedicated to children with Down syndrome. These wonderful "rain" people liked the film and they said: "Let's shoot something else." I tell them, and what can we work on? They answer: "You're filming Shevchuk, let's try to reanimate this project."
We tried and it worked out. We resumed filming, finished some actual episodes for the winter and spring of 2018. Then it was very hard and long, we mounted it together with Yura. He brought a huge amount of his work to the film, I do not hide it.
As a crazy perfectionist who is never satisfied with the result and does everything not 100%, but 1100%, Yura sat with me in the editing room, offered me some things, for which I am very grateful to him. By the way, it was he who invented the film structure. Initially, my directorial idea was a linear narrative. But Yura suggested breaking the film into four thematic short stories. The film has become more poetic and musical than my author, director, journalistic version.
Therefore, I will not hide the fact that we worked together on this film and I am happy to have such an exclusive co-author. Who else could boast that he has co-authored Shevchuk himself! Of course, he is not indicated in the credits, Yura is a modest man, but his hand in the film is very visible.
It is also important for me to note that a huge part of the work was done by the guys from the DDT team. Of course, Alexander Brovko, the musician and director of the band, the video artist, the person responsible for the video installations during concerts. This is a very important component of the DDT shows. Sasha is a very creative person, and, one might say, the director of the group, which does not let the camera out of his hands, he is a real chronicler. A huge number of his videos are in the film and he helped us a lot. The man who makes videos for DDT, video-versions of concerts - Artyom Onashchenko - also helped a lot. He, by the way, is from Minsk. Besides, in this film there are many frames and words that sound precisely at the Minsk concert of the band.
Artyom Onashchenko is a video editor who has done a huge part of the work. To work on the film, he specially came by bus from Minsk to Petersburg with a huge computer in his bag. He is a very creative person.
For me, DDT and Belarus are identical concepts. That's because Shevchuk and I met in Brest in 2001. It was just the 60th anniversary of the start of World War II and there was a huge DDT concert in Brest dedicated to this event. A wonderful concert, a huge number of people, just awesome atmosphere. And it happened so that through mutual acquaintances I got to the party after the concert. Not me personally, but the whole of our crowd talked with Shevchuk. I can even say that we did not speak, but listened to Yura all night with our mouths open. He is just an amazing storyteller. We drank, as usual, ate. All in all, it was a very cool night dinner conversation.
Shevchuk, of course, simply shocked me with his philosophical maxims and thoughts. He said those things that you always thought about, they were spinning in your head, and he took them and formulated them. They took and clothed these thoughts in incredible words, phrases and texts. What is unique about Shevchuk? He is able to put thoughts into words. The word is capitalized. Yura finds such words that are absolutely unique, puts them into sentences, and sentences into texts. He does it like no other.
Answering your question why Shevchuk, I'll say a little pathos thing, but it is so. Over the past 300 years, Russia has had its own great poets in each period: Pushkin, Lermontov, Nekrasov, Mayakovsky, Yesenin, Tsvetaeva, Akhmatova, Pasternak, Brodsky, Vysotsky. And, as it seems to me, the only poet for Russia today is Shevchuk.
Because he is very tormented by what is happening to Russia, to all of us. He expresses his pain, his reflections, in texts that depict real life. Having absorbed reality and passing through himself, he puts this our life into the Word. Many are waiting for this Word, because people are perplexed. When a person is bewildered, he does not know what to think about the war in Ukraine or Georgia, or about the new Russian "greatness" and "rising from his knees," the emergence of a new empire", in which Russians are increasingly involved. Then a person seeks orienteers and lighthouses. As a rule, those people on whose work you grew up, whose creativity you admire, become such orienteers.
Many people search and find out what Grebenshchikov, Shevchuk think for one reason or another, and what Makarevich thinks about it. When your inner world is similar to the inner world of the artist, then you expect from him that he will answer your question. It seems to me that Shevchuk answers many questions and it was very important for me to let him speak out on many issues that concern us all. This was the most important thought. By form, a very important thing for me was said by the editor-in-chief of Novaya Gazeta, a friend of Shevchuk, and I dare say my friend Dmitry Muratov.
Why do people need critics at all? They can tell directors and explain what you shot. After all, sometimes you don't understand what you did. You don't see, you cannot appreciate.
Dmitry Andreevich said a very important thing for me, which I will now quote close to the text: "You know, for me, this image of Shevchuk, a Russian intellectual who cannot calm down and rushes through Russia covered with snow and the ice crust of stagnation. When everything was covered with concrete, everything was rolled up, frozen, only on top - a small snow powder of well-being, which is easily blown away at the first wind. And Shevchuk, who rushes through this snowstorm, trying to break through to some new horizons, get to the truth and break through this ice crust with his head, in the frozen modern Russia."
These are the words of Dima Muratov, but it is very important for me that my hero, an intellectual in glasses, is trying to break through the crust of the current stagnation with his head, and I would call him even sediment. There was Brezhnev-time stagnation, and today we have Putin's stagnation. Yura doesn't stop, and after all, many of the rock іфтвы have stopped and are earning money. Only Shevchuk does not stop, he sweats blood, he has so much pain for Russia that he cannot stop.
- At a time, the appearance of a video tape-recorder stroke a blow against the USSR. Today, we are witnessing a new technical revolution: the Internet and YouTube are defeating the TV. How do you think, will the new technical revolution send dictatorships to the dump site of history?
- It would be good, but unfortunately the Internet is very vulnerable. From the situation in China or North Korea, we see that this is a kill-switch issue. One thing that these people who keep their hands on the kill-switch should not forget: that if they let this switch go, it can become an impetus to a very strong popular outrage. Especially among young people. After all, if you take away the Internet, YouTube, the opportunity to receive information not from a box that is completely false and propaganda from the youth today, I wonder what will happen. I do not know if there will be a protest, a revolution. We will see.
- The story with Telegram in Russia shows that it's not this easy to turn this kill-switch.
- The horizontal way of disseminating information when it is transmitted from person to person is an absolute revolution. After all, a telly-to-person is a vertical transmission of information. You can control the telly and you convey your will through it. It works very effectively. Come to the Russian outback, where people watch the :"shit shows" for days and see the level of fooling.
A person turns into a television product and for all questions he has only an opinion from the TV. Young people are different, they understand that they are being fooled. It is for this reason that Friday's TV channel, with which I am currently collaborating, enjoys fantastic success. This is a youth, entertainment, non-political television channel that knows its audience and offers it an interesting, high-quality product. An excellently filmed, edited, thorough channel, which began to enjoy protest success. Youth says: "You fed us so much with your policies on federal television channels that we simply won't watch them."
Returning to the Internet, I'll say that it's just a brilliant story that allows horizontal transmission of information. This is definitely a revolution. But you need to find something that will not allow the authorities to destroy it. Some kind of "anti-switch".
- Besides, Elon Musk suggests covering the entire globe with free satellite Internet. Maybe, this project will become the "anti-switch" we all need?
- Here, maybe, Elon Musk, paraphrasing the well-known saying, will say: "How do you like this, my dear dictators?" If each person has the opportunity to freely receive information on horizontal connections - this will be a great achievement of mankind. And if not, I like to amuse my Belarusian friends with one joke. If they really press us in, we will make films on phones and show on intercoms. This will be called partisan television: you come in, connect to the doorphone network of the whole house, show your stuff and go deep into the forest.