Belarusians - About NEXTA's Meeting: It's Time To Gather, People! Weather Will Be Fine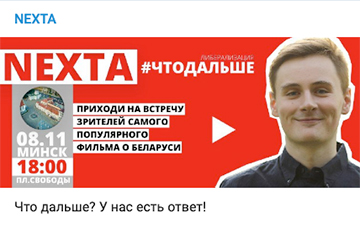 The famous blogger will hold a meeting with fans in the center of Minsk today.
The most popular Belarusian blogger Stsiapan Sviatlou (NEXTA) announced a meeting with subscribers. The meeting will be held at Freedom Square in Minsk on November 8 at 18:00.
Charter97.org users commented on the blogger's initiative:
"Friends, let's all come together tomorrow! Long Live Belarus!"
"We must go! I think there will be a lot of people tomorrow! Meanwhile, Stsiapan's film is still in trends for the second week and more than 1,500,000 people have seen it only on YouTube".
"Great! So step by step people will wake up.
"It's time to get together, people! The weather will be fine".
"The number of participants has to be at least thousands of people! Better yet, tens of thousands! Then the power will be really scared!"
We remind that X97 video studio recorded a 27-minute interview with the author of the NEXTA channel. You will get answers to many questions, and most importantly, you will learn a lot of reasons why you should go to the meeting.