Alena Tserashkova: When Authorities See That There Are Many Of Us, They Retreat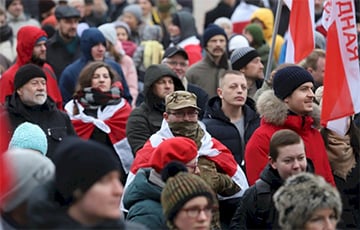 The activist told me why her conscience called her to the Square.
Activist of the European Belarus civil campaign Alena Tserashkova told Charter97.org why she decided to take part in the rallies that took place in Minsk on December 7 and 8:
- Now there is an opinion that there is no threat of independence, that there is a regular process going on, which will end up with nothing, just like it happened all the time. I think it's a mistake. We see that Russia behaves more aggressively with the rest of the world than before. Aggression and stupid political ambitions are escalating. There comes a time when, in accordance with his own laws, Vladimir Putin cannot be re-elected for another term. Therefore, I take the threat from Russia very seriously.
Experience of monitoring political campaigns in Belarus shows that the rallies do not become large-scale right away. People start to come out when they see that someone is already there in the Square. That's why it is important for me to be present at these rallies. This is my personal choice, because if everyone says "it will not be me," no one will come.
Another reason why it was important for me to be present at this event was solidarity. We can't leave protest leaders without support if we don't want them to be thrown in jail. The more of us, the safer the mass events are. That's why my conscience called me to the square, called me to be near my comrades-in-arms. When the authorities see that there are many of us, they retreat.