Regional Newspaper Took Off Picture Of War Veteran From Subscription Announcement Because He Is BPF Member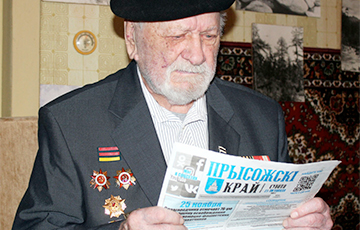 Feliks Shkirmankou's photo was taken with a white-red-white badge on his jacket.
Slauharad district newspaper "Prysozhski Krai" has removed from its website the photo of war veteran Feliks Shkirmankou, which was published under the appeal to subscribe to the publication until December 25, 2019.
According to 6tv.by, the large photo of Shkirmankou occupied a significant part of the article. The veteran of the Great Patriotic War holds the Prysozhski Krai newspaper in his hands there.
However, the Mahiliou Region portal published an article "Slauharad district newspaper calls to subscribe to the newspaper with the help of a photo of a BPF Party member". The text tells about Feliks Shkirmankou, an honored native of Slauharad, a writer and war veteran. The article mentions that Shkirmankou has long been a member of the BPF and the Belarusian Language Society named after Frantsysk Skaryna.
The next day, Shkirmankou's photo with a white-red-white badge on his jacket and newspaper in his hands disappeared from the district newspaper's website.
Feliks Shkirmankou was born on May 27, 1926 in Prapoisk, today's Slauharad. He took part in the partisan movement since July 1941. In November 1943 he was seriously wounded. Later he graduated from the military engineering school with the rank of junior lieutenant and was sent to the 4th Ukrainian front as a commander of the sapper's platoon. He finished the war near Prague. During the war he was wounded four times, awarded the Order of the Red Banner, two Orders of the Patriotic War of the first degree, medals For Bravery, " For the Partisan of the Patriotic War " of the first degree, " For the Victory over Germany ". After the war he served in the state security bodies, worked in geological prospecting in the Far East, was chairman of the Slauharad Council of Deputies.
Shkirmankou is also a writer, author of many books, member of the Union of Belarusian Writers.