Young Belarusian Woman At Pro-Independence Action: My Eyes Have Opened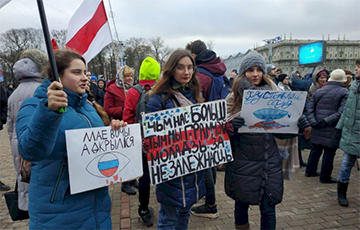 For the second day, Belarusians have shown inspiring unity and will.
The protests against the so-called integration of Belarus and Russia have been taking place for the second day in a row in Minsk today.
A young Belarusian came to the action with the poster "My eyes have opened":
"It is clear what Russia wants from our country, what it is preparing for us. We have seen the light - and therefore we are now here in the Square.
I am not against making friends with Russia, but we are a separate country.
I was at the action yesterday. It was such an elevated mood, such high spirits - I felt that we were still a single nation and could defend our independence. I will participate in the actions for independence further on. I'm not afraid of anything: I'm fighting for a just cause," the girl said.