Chief Editor Of Tut.by Portal Tried In Minsk
5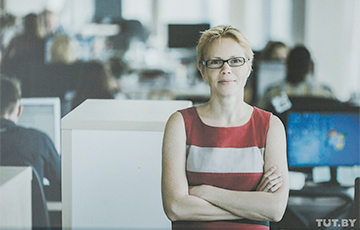 Maryna Zolatava is charged under the article "The inaction of the official".
The criminal case against the tut.by editor-in-chief will be considered by the Zavadski district court of Minsk, but in the Maskouski district courthouse. Only here a large hall that can accommodate a large number of listeners is available. For example, in this room, the case of hazing in the army and the death of Aliaksandr Korzhych was heard, the sentence on the "case of 17" was passed, tut.by reports.
On August 7, world media spread the news that Maryna Zolatava was detained along with other journalists. They were suspected of viewing the articles of the state news agency BelTA on a closed paid subscription. The editor-in-chief spent two days in the temporary detention center in Akrestsin street. The journalists and editors were supported by the European Union, the Council of Europe, the United States, as well as by international human rights organizations.
Initially, the tut.by editor-in-chief was suspected under two articles of the Criminal Code at once – Part 2 of Art. 349 (Unauthorized access to computer information, made of a personal interest, causing significant harm) and Part 2 of Art. 425 of the Criminal Code (The inaction of the official). But was charged under the last one. She is the only one of 15 journalists and editors of several media outlets who were involved in the case, whose case went to trial and against whom the investigation did not stop the criminal prosecution. The tut.by editor-in-chief's petitions under Article 86 of the Criminal Code were dismissed twice. And the General Prosecutor's Office sent the criminal case against Maryna Zolatava to the court.
This process can be called unique; for the first time in the history of modern Belarus, the chief editor of the media will be tried on charges of crime related to professional activities. It is already known that the judge in the "BelTA case" is Aliaksandr Petrash.
We remind that, on August 7, the offices of tut.by and BelaPAN were searched and several employees were detained. Tut.by editor-in-chief Maryna Zolatava, editors of the portal Hanna Kaltyhina, Halina Ulasik and Hanna Yermachonak, BelaPAN chief editor Iryna Leushyna and international commentator of Tatsiana Karavenkava, and German Wave correspondent Aliaksei Zhukau were detained. They all spent several days in the temporary detention center in Akrestsin street. And at the end of November 2018, they were exempted from criminal liability and brought to the administrative one. In addition to fines, journalists repaid the damage. The amounts were different – from 3 to 17 thousand rubles.