Natallia Radzina: Charter-97 Has Funds Left For Month Of Work
23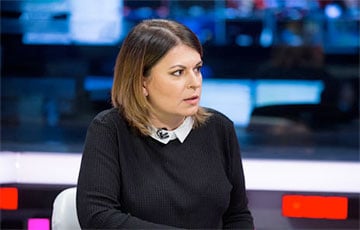 For several months already, the website Charter97.org has been working only thanks to its readers' support.
Belarusian opposition leaders sent a letter to the President of Poland Andrzej Duda and the Prime Minister of the country Mateusz Moravetski with a request to support the independent information website Charter97.org, which editors office has to be located in Warsaw due to repressions by the Belarusian authorities. This year, funding for the portal has been significantly reduced. Radio Racyja contacted the Editor-in-Chief of the Charter97.org website Natallia Radzina, to find out how the Belarus's highest-rated website was doing and how the negotiations on the continued funding were going:
– The problem is that the Charter-97's project, which the Solidarity Fund PL supported, ended in November last year. At the moment we still have nothing. Today it is absolutely clear that there will be significant changes. I held meetings in the Fund and in the Ministry of Foreign Affairs.
I am very grateful to the leaders of the Belarusian opposition, who appealed to the President and the Prime Minister of Poland with a request to support the Charter-97 website. They noted its importance for Belarus in the conditions of dictatorship, as well as in connection with Russia's very aggressive policy towards our country. After the Polish project ended in November, we work only thanks to our readers' support.
I can tell you that the website has funds left for just one month of work. The portal, which millions of readers read even despite its blocking in Belarus, is on the verge of shutdown.
– How many people are currently working at the site, creating content? How do you have to warn people about the reduction of funding and the existing problems?
– We will continue to fight; we will seek funding for the website. Today, the portal employs about 30 people, and they are not only journalists, but also translators (we have three language versions) and a technical staff. Half of the employees work in Belarus, and half – in Warsaw.
– What topics are currently most relevant to the site, which it is impossible to cover in connection with these financial problems, creating your own content?
– The problem is that many of the people who work today at the Charter-97 website in Warsaw, were purged in Belarus. Neither I, nor many of my journalists can come to Belarus. Today we are renting apartments in Warsaw, and if there is no minimum wage to rent housing, people will simply end up on the street. Therefore, of course, Charter-97 is even more vulnerable than the media that work inside Belarus, since there a journalist can, in the worst case, live with his or her parents or relatives. In our situation, it is impossible.
However, we will look for possibilities to continue. We have been working for 20 years, faced with a variety of difficult situations, although the current situation, of course, is critical.
I can tell you that I see the following trend: some European politicians count on cooperation with the dictator Lukashenka. At the same time, there is a reduction in financial support to independent media in Belarus, which criticize Lukashenka's regime, which claim without censorship that human rights are being violated in the country and changes are needed.
Poland has always stood out among other European countries having firm principles in relations with Lukashenka's regime, supporting independent Belarusian media (I mean Charter-97, Belsat TV channel, Radio Racyja, European Radio and other independent Belarusian media). I hope that this policy will remain unchanged, and the country's leadership will understand that the destruction of such project as Charter-97 can lead to negative results, including for Poland itself. If Belarusian independent media disappear, it will lead to a military invasion of Russian troops in Belarus.