Homel Taxi Drivers Are On Strike
13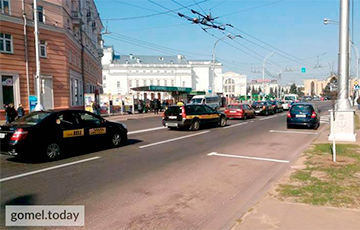 They are blocking traffic in the central streets of the city.
Monday morning started with a taxi drivers strike. According to drivers, "Taxis 155 and 181 were moving very slowly along Lenin Avenue, blocking the traffic."
As one of the drivers told gomel.today, this morning, the taxi drivers gathered near the regional executive committee to discuss the situation once again: how to grapple with the competitors: Maksim and 7220, who, according to them, work illegally. It was decided to proceed to action – to slow down the traffic in the main streets of the city.
The drivers cannot say yet for how long this protest will last.
We remind that the first strikes of the taxi drivers, displeased with Maksim's appearance in the Homel market, began in February. The first meeting, where the drivers decided to agree on a single tariff, economically advantageous for everyone, was organized near the Euraopt shop in Khatayevich street, the next day the meeting was repeated near at the regional executive committee. "We want to attract the authorities' attention, we are not just standing, we are losing work," – the taxi drivers were saying.
However, judging by today's strikes, the February conversation has amounted to nothing.