Jauhen Afnahel: I Hope Zelensky Will Not Shake Dictator's Hands
52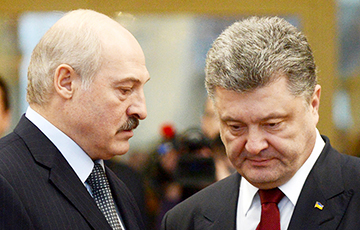 The twilight of careers of Lukashenka's "friends' was not a brilliant one.
On Sunday, April 21, Ukraine held the second round of the presidential elections. As a result, Volodymyr Zelensky was elected the new president of the country.
Charter97.org asked the coordinator of European Belarus civil campaign, one of the leaders of the Belarusian National Congress, Jauhen Afnahel to comment on results of the presidential elections in Ukraine:
- I will begin by saying that if we characterize the mass and genuine interest of Belarusians in the elections in Ukraine as a whole, the first word that comes to mind is envy.
Residents of our country followed the debates of Petro Poroshenko and Volodymyr Zelensky at Olimpisky. Every day social networks discussed pros and cons of both candidates. They guessed how they would vote, living in Ukraine.
It should be noted that this interest did not spread not only on social networks. My friends, relatives, who are far from politics, were interested in the elections in Ukraine, asked my opinion about them. You know, it's incredible that Belarusians were so interested in the elections in the neighboring country.
As for results of the presidential elections in Ukraine, it was predictable. Although I would say that Petro Poroshenko has undeniable merits. He received the country in a terrible condition. I mean the war with Russia, the absence of an army. In general, prospects were very vague at that time, and Poroshenko managed to preserve Ukraine's independence and achieve some success in foreign policy.
Nevertheless, I can say that Belarusians have many questions to Poroshenko. The most important thing is why, having come to power as a result of the Maidan uprising against the dictatorship, he started building-up relations with the Belarusian dictator Lukashenka. He supported him, traded with him.
We really don't get it. Moreover, the mistake was made by one of Poroshenko's predecessors - Viktor Yushchenko, who was, in fact, Lukashenka's lawyer in the West.
We do hope that the new President of Ukraine Volodymyr Zelensky will not repeat mistakes of previous heads of state. In particular, with regard to our country.
- Speaking about Poroshenko's policy in details, why do you think he had such gap in votes with Zelensky?
- Five years ago, in 2014, the Ukrainians believed Poroshenko. At that time he said evident, necessary and important things they wanted to hear from him.
It seems to me that Poroshenko lost because he failed to do what the Ukrainians expected. I couldn't end the war by winning it. At the same time, he traded with an aggressor country and maintained relations with oligarchs, who were suspected, among other things, of supporting terrorists in eastern Ukraine. While most Ukrainians cannot boast of their prosperity, he remains one of the richest people in the country and keeps building up capital.
He was unable to provide answers to the questions, including those during the debate. Again, he did a lot for his country, but did not do everything he could. First of all, it concerns foreign policy, relations with neighboring countries, including Russia and Belarus.
- Belarus is now on the eve of "presidential" and "parliamentary elections". What lesson can we learn from the events in neighboring Ukraine?
- It's obvious that Lukashenka is afraid of elections. He certainly follows events in Ukraine and knows about the interest of Belarusians in the elections in the neighboring country. It scares him much, because Ukraine showed the need for changes.
There are people who say that changes are wrong, it's hard to live in an era of changes, but, in fact, it's wrong for our region. Belarus and Russia, which are practically stuck in the Soviet past, long for changes. This is the reason to try to shuffle.
Even during Lukashenka's "address" many people expected that "elections" would be scheduled this fall, but we see that the date of "elections" is delayed. Some analysts assume that they will take place next spring. Yarmoshyna (head of the Central Election Commission of Belarus) told about August.
It's obvious that Lukashenka, realizing the picture, is trying to delay the inevitable - the change of power in Belarus. We should be ready for the presidential campaign and use it to change the power in the country, desired by 90% of Belarusians.
Attempts of the authorities to hold off on this unpleasant date do not play a great role. After all, it may happen much earlier and it's not necessary for changes to happen within the elections.
Again, the main result of Belarusians' interest in the Ukrainian elections is a great demand for change in the Belarusian society.
That is why the elections in Ukraine, probably, have been on agenda.
- What should be the policy line of the new President of Ukraine towards Belarus?
- The President of Ukraine must remember that he became president in fair, free and fair elections. For the very possibility of holding them, Ukrainians sacrificed even their lives. I hope that Volodymyr Zelensky will support Belarusians in their main dream of holding free, democratic elections and will never shake hands with a criminal dictator, as his predecessors did.
In addition, I would advise Zelensky to remember what was the twilight of careers of those who shook Lukashenka's hand for their business interests, for short-term profit, sacrificing ideals of democracy, freedom and, you know, justice.