British Diplomat: Human Rights Are Integral Part Of Our Relations With Belarus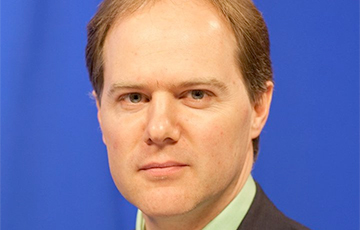 This issue cannot be the subject of trade between Minsk and the West.
Martin Harris, director of the Eastern Europe and Central Asia Directorate of the Foreign and Commonwealth Office, notes that human rights are very important for relations with Belarus and cannot be looked upon as a subject of trade between Minsk and the West, Belsat reports.
"This is a wrong view on this dialogue, and I don't think that the Belarusian authorities consider it this way. This is not "scratch my back and I will scratch yours," you need to understand that this is important for the development of the Belarusian society itself, for the sake of Belarus itself, and not for external partners. And we are discussing these issues in this vein," – he said in an interview to tut.by.
Harris is pleased that the British Embassy in Minsk raises these topics. The problems that may be caused in relations with the Belarusian authorities do not frighten the diplomat.
"Our partners here understand that this is part of the overall package of relations with the UK. We are a democracy, a very old democracy, we have a strong parliament, in which there are many principled points of view. And one of the things that worries our deputies is human rights, including human rights in Belarus. Our ministers have a duty to respond to parliamentary requests. And if you want to build relationships with a democracy like the UK, it's impossible to ignore these issues," – he says.
Harris arrived in Minsk last week. He met with human rights defenders and representatives of civil society, as well as with Deputy Foreign Minister Aleh Krauchanka.
"Both sides understand that [human rights] are an integral part of our relationship. The basis of this relationship is the responsibilities that we assume towards each other in the OSCE or the UN. We already have these common standards on the basis of which we can discuss human rights," – Harris said.