German Lawyer About Belarusian Pension System: 'This Is Robbery!'
13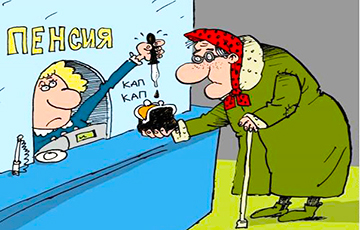 How can it be that they only take and give nothing in return?
November 2019 and August 2020 - around this time there should be parliamentary and presidential elections in Belarus. So, time to distribute election gifts. Since May, Belarusians will receive increased labor retirement pensions and old-age pensions (by an average of 6.3%), BYN 411 and 418, respectively. The Day of Solidarity of Generations in the capital was celebrated with the holding of an international Forum of non-profit organizations, Belsat reports.
How does the life of pensioners in Belarus actually look like? The journalists discussed this issue with Chairperson of the public association of pensioners "Our Generation" Tatsiana Zialko.
"Raising the retirement age is not an option. Do you have so many jobs, so that pensioners with their experience could work with dignity?
No, they offer a cleaning lady, a nanny or something like that. And even such jobs are noit always available.
And what is the life expectancy, especially after the Chernobyl disaster?
Half of our men do not live up to retirement! But they pay (this refers to the deductions to the pension fund - edit). People work, they pay everywhere, all contributions.
However, if you do not have enough labor experience before retirement - there might be a lack of just one month! - and people continue to work and receive a pension, this experience will not be added to the labor experience! Although you pay these contributions - no one will accrue a pension for you.
One German politician and lawyer said: "This is a robbery in broad daylight! You probably do not understand something, it cannot be that they only take and give nothing in return!"