'Night Wolves' Plan To Ride To Belarus Carrying Flags Of 'DNR', 'LNR'
46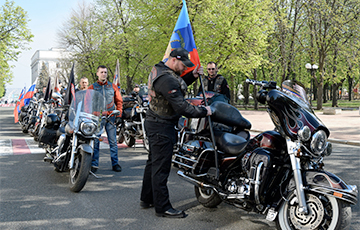 Representatives of terrorists will ride through the territory of our country.
25 representatives of the self-proclaimed "LNR" and "DNR" claim to take part in this year's biker rally "The Victory Road - to Berlin", which is held by the Russian motorcycle club "Night Wolves", Belsat reports.
Representatives of the so-called "LNR" and "DNR" are going to ride along the entire route under the flags of the self-proclaimed republics and plan to take them to the monument "Soldier-Liberator" in Berlin. The "LNR" flag was presented to the participants of the rally personally by the head of the "Luhansk People's Republic" Leonid Pasechnik, his official website reports.
The route of the rally passes through the territory of Russia, Belarus, Poland, Slovakia, the Czech Republic and Germany.