Social Graffiti Appeared In Minsk City Center
12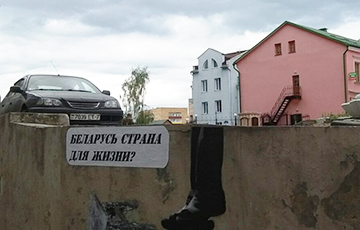 The unknown have responded to government propagandists.
Graffiti "Belarus is a Country for Life" has appeared in the center of Minsk, the Basta Telegram channel reports.
The state propaganda is trumpeting that Belarus is a "Belarus is a Country for Life." But is it really true?
Even the official statistics shows that many indicators of quality of life, including the level of suicide, alcoholism, abortion and divorce, have some of the worst indicators in Europe. In the first months of 2019, Belarus lost more than 10,000 people. This is the population of a town. More and more often suicides occur in the army and other law enforcement agencies, and this is just the tip of the iceberg. Hundreds of thousands of Belarusians, running away from poverty, are forced to go to other countries to earn money, entire villages and district centers getting empty. So, is it true that "Belarus is a Country for Life"?