The Main Death Reason of The Traffic Police Officer Is Suicide, The IC Informs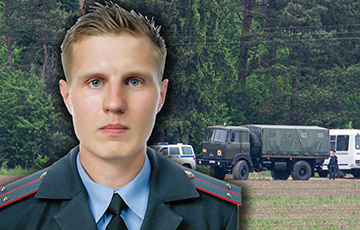 The Investigative Committee made a statement.
On 20 May, the IC issued an official statement on the case of the death of a traffic police inspector in Mahiliou. Recall that 22-year-old police lieutenant Jauhen Potapovich was shot dead on May 16. On 18 May, the inspector was buried, tut.by reports.
According to representatives of the IC, the version of kidnapping by unknown persons driving black Volga was not confirmed. The main version is suicide.
The IC said that around 11 a.m. on 16 May, Lieutenant Potapovich bought firewood, a shovel and ignition fluid in a shop. The same thing was found near the body. A police officer's standard-issue handgun was also found at the scene.
At the briefing it was stated that a police officer's standard-issue handgun was also found near the body. He shot himself in the head.
According to the IC, his hands were indeed handcuffed, but the investigation concluded that he could do it - the position of his hands allowed to fire a shot.
"No signs of struggle or violence were found, only gun shot wound," the IC informs.
The IC stated that he had sent a number of suicide reports to his family.
It will be recalled that on 16 May NEXTA Telegram-channel reported that a 23-year-old lieutenant of the traffic police had been kidnapped in Mahiliou. At 9.45 p.m., an official representative of the Interior Ministry said that the officer was killed. The entire staff of Mahiliou regional police was alerted, the Siren plan was launched in the region, roadblocks were set up all over the country.
There were reports of kidnappers driving black Volga with Russian numbers. It was said that perpetrators were gypsies.
May 17, Belarusian police began to detain gypsies living in Mahiliou. Representatives of the diaspora said that they were subjected to force.
The detainees were released only on May 19.