Lukashenka 'Cemented' Billions of Dollars
44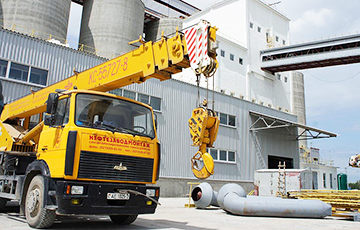 It would be more efficient to graze cows.
Lukashenka signed Decree 181 "On the organizations of the cement industry" and revealed major secret of the Belarusian economy: how much budget money the Belarusian authorities "cemented" at unprofitable enterprises.
As it turns out, from 2015 to 2019 Belarus spent $900 million on loss-making cement plants. In addition, the "modernization" of the cement industry in 2008-2013 cost $1.2 billion. In total, more than two billion of people' money was spent.
The cement industry is not an isolated case. The public sector wastes billions of dollars from the Belarusian economy. Why won't the authorities get rid of this ballast? Charter97.org asked Leanid Zaika, the head of Strategy Analytical Center, for comments.
- If we take the cement industry, it all started with a wrong forecast. About 15 years ago, or even more, Russian marketers predicted a sharp decline in use of traditional materials and increased demand for cement. That was the ground for the Russian methodology of construction.
The forecast was based on Russia's increased demand for cement. People in Lukashenka's entourage hustled and brought him this offer: to work for cement on a national scale, to invest much money.
Not very competent guys predicted all this. After all, cement production is very energy-consuming. The mistake was that Belarus had no energy sector, we buy gas from Russia.
Our government made a mistake; it invested billions of dollars, and now we look like fools.
– Will the authorities recognize their mistakes and stop contributing to loss-making enterprises?
- Stereotypes, methods and climatic conditions are changing very fast in construction. Once Russia helped us in the Kaliningrad region, when it "kicked" Swedish and Danish construction companies out of there. Then there was an increase in supply of Belarusian cement to Russia. But it was only about one region. Russia has no demand for cement, brick houses are more popular. I do not know what to do with this cement. Someone offers following the option of the Third Reich: to make roads out of cement. Such highways as Berlin - Moscow. But it's extremely expensive.
Will they continue to contributing? Most likely, the mistake will not be recognized and the pedals will be kept turning.
- Lukashenka proposed to make the grandees of the domestic industry the burden of the IT-sector. Do you think the HTP will have to deal with cement?
- This can only be useful for IT specialists in one case: to roll up their competitors into cement blocks. I would sell our Belarusian cement to Italy, Colombia, and export to these very countries. IT specialists are as simple as tomatoes before making salad. The "Eggheads" offered Lukashenka a digital society to make everything computerized, and he will offer them cement industry and loss-making collective farms.
- Should Belarus bet on the construction industry, engineering, heavy industry?
- The thing is that in 1994 I was invited to the administration of the "president" to develop national production programs. At that time they thought that Lukashenka was "an outstanding democrat who would attract people with Harvard diplomas into the economy. We developed promising areas of the Belarusian economy. Then I made the conclusion that only separate enterprises could support the economy, not the entire sectors. The cement industry could not be our panacea even in the wildest dreams.
Of course, we all offered that to Lukashenka, who had been president for two or three months. We offered, but guys from villages came to power; they couldn't do anything. It would be better for them to graze cows, it would be more effective. Even though they have failed with milk, the Russians will not consume it either. Nothing but mistakes. These are the leaders we have.
– What would be your way out of the situation?
- I'm tired of explaining to them what to do. I used to be a member of the expert group of the Council of Ministers and offered them a way out. If I had been assigned prime minister for 18 months - that's another thing. It is easier to do everything on our own. It's better for Lukashenka to have a rest in the middle of nowhere, and to dismiss the government. There's no point in recommending anything. Our country longs for an economy with a different matrix. I've been saying this for 30 years. Unfortunately, my advice is being listened to after 12 years.
No advice will help these people. Imagine, if a surgeon told a veterinarian how to do a surgery on the human brain. How much would he learn?
One should say: "Guys, we are launching a new economic policy, enterprises are switching to a competitive environment".
- We have already experienced a failed "modernization", and the previous government proposed "industrialization". Should we expect some new "zation" requiring billions of dollars?
- It's a cognitive dead end. Our government has invested billions in sawdust furniture production... I've walked through Minsk and see that our fences are made of fine wood. What should we discuss, if fences are made of fine wood and the furniture is made of sawdust. What?
Or all this Belarusian-Russian hype, when apples and pears are driven back and forth. Endlessly. Lukashenka said Druzhba oil pipeline would be repaired, while Putin said: "Okay," and poured "dirty" oil in the pipe. Now we have to repair refineries. What should we do with it? They will reach a dead end.
Once, domestic investments in Belarus reached up to 17 billion. But it was good times. I have estimated that our GDP this year is about $56 billion. In 2014, we had $77 billion. Do you feel the difference?
They are not so smart. It happens that girls grow up and do not know how to wash dishes and boys who do not know how to hammer nails. We have the same government.
My advice is as follows: do your job and do not read state newspapers. If you read them, a pink halo will appear before your eyes. Do your job. Lukashenka is a great example: he grows watermelons, potatoes. I wish he could do it all the time, but could stay away from the economy. Watermelons are great, as well as potatoes, but not the economy.