Even Reckoning Makes Long Friends
29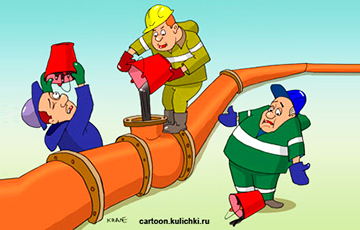 Will Belarus get 0 rubles for dirty oil?
The conflict of seven years ago between Moscow and Minsk over the illegal supply of "solvents" suddenly arose when the Belarusian side claimed compensation for the dirty oil. According to the Russian Ministry of Finance, the Russian budget received less than $1.5-2 billion in 2012 because of "solvents". Lukashenka, on the other hand, charged Russia with "hundreds of millions of dollars" for dirty oil. It seems that Russian "allies" of Lukashenka have had an ace up their sleeve all this time to show it at the right time. On Friday Dmitry Medvedev and Siarhei Rumas are going to discuss oil issues. How will the negotiations between the Prime Ministers of Russia and Belarus end? Charter97.org asked economist Leu Marholin for comments.
- Moscow is going to raise a dispute of 2012 about the Belarusian manipulations with the export of oil products under the guise of "solvents", which then cost the Russian budget $1.5-2 billion. Why has this topic become urgent after seven years?
- It's possible it is caused by dirty oil in Druzhba pipeline. After all, the Belarusian government demands compensation, including for damaged equipment. So Russia remembered that it had once "forgiven" Minsk its losses.
- Russia just doesn't want to pay for dirty oil, does it?
- This is one of the options.
- Is there a limitation for such economic disputes? Is it normal that the issue is raised seven years later?
- There is no limitation, but I doubt that the Russian-Belarusian agreements mention something about dirty oil and compensations. Here, most likely, we are talking about gentlemen's agreements.
The Belarusian government says: You have inflicted damage on us, compensate now. Russia counters: You may remember that seven years ago you inflicted damage on us, let's reset it all to zero.
I stress that these are just gentlemen's agreements.
- Negotiations upon the issue are to be held at the level of prime ministers of Russia and Belarus on Friday. How do you think they may result in?
- If my suggestions are right, most likely, they will be reset to zero. That is, the Belarusian and the Russian sides will renounce their claims. If there is another reason, I think we will find it out in a couple of days. So far, more information is needed.
- But if Minsk still demands compensation for dirty oil, it will have to pay for solvents, and then Lukashenka challenges huge losses, doesn't he?
- Yes, it turns out that we owe them two billion and they owe us 200 million. The Belarusian side may hear that two billion are forgiven, and still it tries to demand some trifles.
- In your opinion, will they compromise and zero their debts?
- I think, yes. Once again, more information is needed to make conclusions.
- Why, given the fact that Belarus is, in fact, one of few Russian satellites in the region, has the Kremlin taken this step - it recalled the case of seven years ago?
- If my suggestions are right, then Russia is simply fed up with it. Yes, Belarus is almost the only "ally" for them, but Russia is also the only "ally" for the official Minsk.
Here, as they say, even reckoning makes long friends. The fact that they are "allies" does not prevent Russia from constantly imposing restrictions on supply of products from Belarus. They just know that Lukashenka has no other options.