Unknown Cut Brake Hose In Vitsebsk Human Rights Defender's Car
13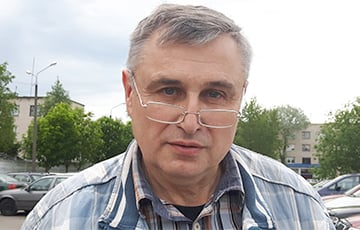 A check upon Pavel Levinau's complaint is being conducted.
Unknown persons cut the brake hose in the car of Vitsebsk human rights activist Pavel Levinau.
The human rights defender reported about it on his Facebook page. And then he shared the details with Radio Svaboda.
– I realized that the brakes do not work when I left the courtyard in the morning of June 12. I called a tow truck and the car was taken to the workshop. After lunch I came to find out what had happened. They showed me the cut hose. I filed a complaint with the police because I believe this could have been an attempt on my life. On May 4, the car underwent a full inspection, and then no defects of the brake hoses were found, – Pavel Levinau said.
According to the human rights activist, his statement was not registered straight away by the Chyhunacny district police department. At first, they said that the owner of the vehicle had not suffered significant material damage, but Pavel Levinau insisted on it. He does not rule out that the actions of the unknown are to be classified as a criminal offence.
– I could have not only died, but also killed a few more people with faulty brakes, if the car had been driven on the sidewalk, for example," – the human rights activist said.
A check upon his complaint is being conducted.