Karayeu To Shunevich: Your Work Is Example Of How To Serve Motherland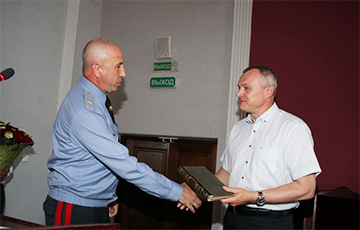 The new Minister of the Interior has expressed his gratitude to his predecessor.
The new Interior Minister, Yury Karayeu, said in his official presentation that in the near future there will be no dramatic changes in the activities of the internal affairs bodies, the work will continue in the same rhythm, the Interior Ministry's press service reports.
Yuri Karayeu addressed with wishes and words of gratitude to his predecessor - Ihar Shunevich.
- Your work as a minister is an example of how we should serve our Motherland. You are a model of bravery, responsibility, active life position and interest in everything that happens around you. Your decency has been noted not only by your subordinates, but also by the "head of state," - Karayeu said.
In response, Ihar Shunevich thanked everybody for the cooperation and stressed that the army makes the general.