Brest Resident On Battery Plant: We Will Press Them In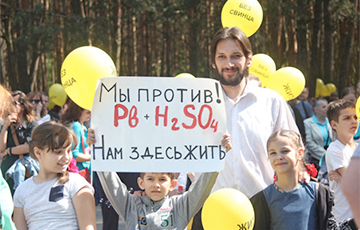 The opponents of the battery plant will be satisfied only with the complete closure of the enterprise.
On Friday, June 14, Chairman of the Brest regional executive committee Anatol Lis signed an order to suspend the construction of the battery plant, against which local residents have been protesting for more than a year.
"The reverse effect": A record number of people came to protest in Brest
This decision looks like the first attempt of the local authorities to listen to the opinions of the people. However, the reality is not so simple.
"This is an interim victory, but not yet final," Brest activist Dzmitry Bekalyuk said in an express comment to Solidarity. "We will press them in. Now we are waiting for the official confirmation. We have already received by phone the confirmation of the information about the pollution of land with lead: the background concentration has increased threefold, compared to what it was before the start of commissioning.
According to the resident of Brest, the soil sample showed that the background concentration is 16-17 milligrams, while at the initial measurement this indicator was around 4-5 milligrams. Thus, in two months the level of pollution doubled the norm.
"This is all very serious," said the source.
The Brest resident believes that the decision of the authorities may be connected with these facts.
- They saw the measurement results. And they all understand that people also see these documents and know that actual pollution is occurring. To reassure the public, the government goes to such steps. But this is not yet a victory, he warns.
Dzmitry Bekalyuk hopes that during this week the public will be able to "put the question to the test."
- If the government is really serious, it will happen ... And if not, it will back down to allow further construction of the plant after the European Games.
What result do we expect, when will people be satisfied? The full closure of the plant. There are no other options. Everything that happens today has become possible only thanks to the active position of the people. If the people had not gone to the square and had not been on duty near the plant, nothing would have happened. I am proud that I live in the city of Brest, where there are such educated and selfless people, the interlocutor emphasizes.