President Of Georgia: Russia is Our Enemy And Occupier
34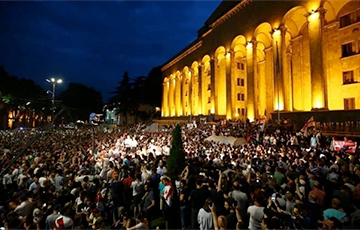 Salome Zurabishvili has commented on the protests in the Georgian capital.
The protests started after the deputy of the Russian State Duma sat in the chair of the Speaker of the Parliament of Georgia at the session of the Inter-Parliamentary Orthodox Assembly.
Salome Zurabishvili called Russia an enemy and accused Russia of organizing mass protests in the country. The President of Georgia wrote about it on her Facebook page on Friday, June 21, korrespondent.net reports.
"Russia is our enemy and occupant. The fifth column that it controls may be more dangerous today than open aggression. I would like to repeat that the breakup of the country and society and internal confrontation do not work in anybody's favour, except for Russia, and today it is its most effective weapon" - Zurabishvili said.
The President also believes that the promotion of internal confrontations in Georgia goes along with the Russian agenda.
We remind you that on June 20, protesters broke into the Parliament building in Tbilisi after the Russian delegate sat in the Parliament seat during the session. It also caused widespread discontent among a number of political parties. They left the building in protest. The protesters demanded the resignation of Speaker Irakli Kobakhidze.
At the moment we know about 52 wounded people, 38 of them are law enforcement officers. The Georgian Interior Ministry called the protests in the Parliament in Tbilisi an attempt of a mass coup d'etat.
In the morning of June 21, it became known that Georgian President Salome Zurabishvili interrupted her visit to Belarus on Friday and returned to Tbilisi. This was reported by a source in the government circles of Belarus to TASS.
"The President of Georgia is going to the airport, the plane has been given permission to leave," - the source said.
As the TASS correspondent reports from the House of the Government of Belarus, the Georgian journalists, who were waiting there for the meeting of the President of Georgia with the Prime Minister of Belarus Siarhei Rumas, which was supposed to be held on Friday morning, hurriedly left the building.