Ministry Of Health: Serbian Ambassador To Belarus Lost Consciousness Because Of Heat And Broke Ribs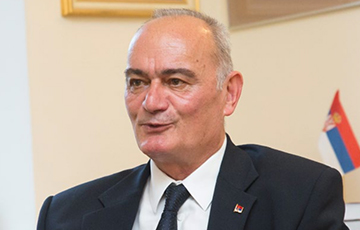 Veljko Kovacevic is still in hospital.
The press service of the Ministry of Health of Belarus reports that the condition of Ambassador of Serbia Veljko Kovacevic is stable and has improved significantly, Belsat reports.
Yesterday, the media reported that the Serbian diplomat felt unwell on June 22 and was taken to hospital.
"He was hospitalized to the Emergency Hospital in Minsk because he had lost consciousness in the hot and stuffy weather. Veljko Kovacevic lost his consciousness on June 22, 2019, when he and other employees of the Embassy of Serbia were visiting the Athletes' Village," - the Ministry stressed.
The Ministry of Health says that when the ambassador lost consciousness, he got injured - broke the ribs. This resulted in pneumotarex - the presence of air in the pleural cavity, where it enters due to the damage of the lung or chest wall. For this reason, Kovacevic has to stay in the hospital.
"The required examination for the differential diagnosis of possible causes of fainting and all the medical care have been provided at a high professional level," - the Ministry of Health said.