Workers Of Aeromash Plant Do Not Receive Salaries Regardless Of Winning Lawsuits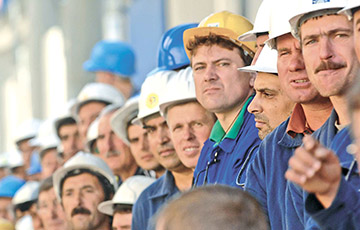 67 former plant workers are waiting for their money.
There is work, but there is no salary.The employees of the Aeromash enterprise located in Machulishchy near Minsk, cannot get what they earned six months ago, to this day, writes Belsat.
They won the trials against the employer, but did not receive salaries. 67 former employees of the Aeromash plant are still waiting for their money.
"Today, they owe almost BYN 17 thousand to me," said Siarhei Chabatar, a former employee of the enterprise.
Aeromash enterprise, which is engaged in the release of flight simulators, had about 200 employees a year ago. However, at the end of last year, after several salary delays, people began to quit en masse.
"When I quit, they said that they would pay very soon, so I quit on good terms, rewrote the application. I resigned claiming Article 41 as a reason, but rewrote the application as "due to won will", because I trusted these people," says Andrei Narkevich, a former worker of Aeromash.
Other former workers appeared in a similar situation. After several months of promises from the company's management and false expectations, people went to the court.
Jeannette Koba, former worker of Aeromash:
"I talked with the deputy head, they simply told me that I could exercise my right to solve the matter in court, and asked not to overreact, but to demand the amount that they owe me, without charging the amount for the overdue days."
Employees won lawsuits, but did not receive the money, since court decisions are not carried out:
"This enterprise works, there was no bankruptcy, they pay taxes, they pay for electricity, transport is working, they transport people to work, because it is located in Machulishchy. So, we do not understand this situation. And they still do not pay salaries to people who stayed at the enterprise," says Ihar Khmialnitski, a former employee of Aeromash.
The enterprise continues to work, but nobody answered the calls of our journalists during the day. The Department of Labor Inspection explains that they conducted an inspection at Aeromash, but the results will come in more than a month:
"The act is drawn up within five days, then demands are made within a month. If they do not fulfill our prescriptions, a report is drawn up and sent to the court. The court considers and takes measures on non-fulfillment ".
Former employees believe that the enterprise simply delays time under unknown reasons, and bailiffs contribute to this.
"I have already addressed to the Lukashenka's administration by e-mail, as well as to the social security, and the state control, and everything converges on the bailiff", Andrei Narkevich, a former worker of Aeromash, is outraged.
Human rights activist Yury Beliakou advises to be as active as possible in such a situation:
"If a person doesn't do anything: write, complain, apply to a specific bailiff, then after 3 years the judicial body will stop the execution of the proceedings, and that's all. No one will implement this decision. "
And in order for the measures to have a greater effect and issues to be resolved more quickly, the human rights activist advises to unite.