Mothers-328 Insisted On Round Table With Authorities In Vitsebsk
1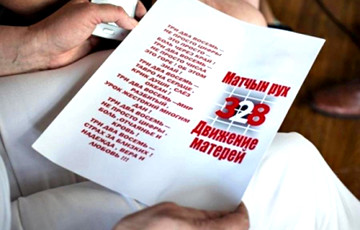 The round table was held in closed format.
There is no more powerful force than mothers of children who need protection and help. Mothers-328 are fighting not only for their children, who are now behind bars, but for all the others, so that they won't fall into the trap of drug traffickers, Belsat reports.
What, in their opinion, should the authorities do?
The Prosecutor's Office and the police, as well as the Department of Education and the BRSM, held a round table with the local authorities in Vitsebsk, initiated by the activists of the Mothers 328 movement. During the meeting, organized by the Department of Education, they talked about the insufficient prevention of drug trafficking.
Natallia Sharypava, the Mothers 328 movement:
"Everyone talks about the dangers of drugs. To improve this prevention, we need to add one phrase: "You may not use drugs, but you can get a job as a planter or just as a courier and get 10-15 years for it."
The round table was held in a closed format, the participants were allowed strictly according to the lists. They refused to let in Belsat journalists, and there was no state television promised by the organizers. And the head of the main department of education, Dzmitry Khoma, did not show up for the round table, although he was expected.
Some people in the village of Vostrau near Pukhavichy are trying to make the authorities hear them in other ways. Since June 11, a hunger strike of the women, who seek a review of cases against their children under the drug articles of the Criminal Code, has been on there.
Alla Bernal, a participant in the hunger strike:
"People join in for a day or two, as the work allows, that is, people are changing, and the three of us are starving: Alena Kuzmina, Liudmila Kulinich and I.
Larysa Zhyhar, a hunger striker, says:
"This hunger strike is dedicated to Part 4 of Article 328, which has not been included in either the draft law on mitigation of legislation or the amnesty.
Part 4 concerns "acts committed by an organised group". It's about those who wanted to make some extra money working as a courier in an online shop. The hunger strikers point out that the current methods of fighting drugs are not working.
"First of all, our demand is to meet with Lukashenka, and the second demand is to review the criminal cases under all parts of Article 328," - Larysa Zhyhar, a hunger striker, explains.
The mothers of convicted under the drug articles hoped for amnesty for their children, but Lukashenka said there would be no commutation of sentences for them.