New Law On Army Draft Adopted In Belarus In First Reading
79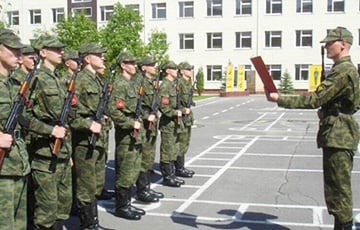 Before the "vote", the Minister of Defense announced an acute shortage of draftees.
On June 26, the "deputies" of the "house of representatives" adopted in the first reading the bill on deferment from the army service, BelTA informs.
Before that, Minister of Defense Andrei Raukou declared an acute shortage of draftees. If the law is passed, the army will receive up to 5,000 additional young people, he noted.
The bill provides that the army service postponement due to the appeal to continue education in Belarus will be granted only once. The draft law says: if a student has already taken advantage of the postponement, then he should go on a sabbatical leave while he is serving in the Armed Forces.
In addition, the project stipulates that those who evade the army will not be accepted for public service, as well as to the internal affairs agencies, the Ministry of Emergency Situations, the Investigatory Committee, the State Committee on Forensic Examinations, and so on.
In accordance with the draft law, it is planned to introduce a temporary restriction on exit from Belarus for citizens who fail to appear at the events of the military recruitment, reserve service, or non-performing military registration activities.
They do not report to the military registration and enlistment offices the information about the change of residence or place of stay. Because of this, it is impossible to notify them on time about the military draft.
The draft law grants the district (city) draft commission and military commissioners the right to recognize citizens as those who have not completed military service under draft, without having legal grounds for this.
In the case of the commissions, we are talking about young people under 27 years old, who are not in the reserve, evade military draft, army service in the reserve, do not fulfill their military obligations.
The military commissioners will make such decisions with regard to those enlisted in the reserve if they, before reaching the age of 27, refuse to be drafted or do not fulfill their military obligations.
As the "deputies" explained earlier, the exit ban will be applied if the citizen has been duly notified of the appearance at the military commissariat and has not arrived without good reason. The evader will be notified that he is not allowed to travel abroad. The decision must be handed to him. After that it can be appealed within a week. When the young man turns 27, the ban will be lifted.
The preparation of the bill provoked a bitter reaction in the Belarusian society. On the Internet, more than 10,000 signatures were collected against the bill.