Vitsebsk Human Rights Defender Puts "Judge- Chairwarmer" Down
5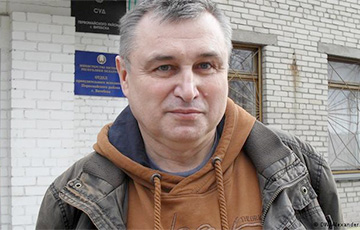 The judge did not react to the insults that a police officer inflicted on the Vitsebsk resident right in the courtroom.
Vitsebsk human rights defender Pavel Levinau appealed to the Supreme Court with a request to give a legal assessment of the inaction of Judge Siarhei Budrevich, who ignored the fact of deliberate humiliation of honor and dignity of the citizen by the police officer during the trial, as Vitsebskaya Viasna writes. The answer that came from the regional court was: Budrevich will be offered to "maintain an atmosphere of benevolence in court."
The episode concerned the administrative case against Vitsebsk taxi driver Aleh Stralets, who was accused of insulting the police officer Miachyslauski (Article 23.5 of the Administrative Code). Vitsebsk resident allegedly insulted the officer on the phone, and then came to the police department to see who he was talking to (and was immediately handcuffed to the central heater). Judge Budrevich fined Stralets with 24 basic units, although he had no evidence of insult (a record of that telephone conversation).
When giving explanations in court, Major Miachyslauski said that he had had two similar cases in his practice before, "but people showed more prudence and did not appear to the police themselves."
"One should be mentally deficient ("crazy" - in the original version). Unlike smart people, the citizen Stralets appeared in the police," – Levinau quotes the police officer's statement in court.
"Judge of Kastrychnitski District Court of Vitsebsk Siarhei Budrevich ignored the fact that Major Miachyslauski publicly and deliberately insulted the honor and dignity of the citizen Stralets in an indecent manner," - the human rights activist explained and asked to give a legal assessment of the inaction of the judge in this situation.
Levinau received an answer to his appeal from the chairman of Vitsebsk Regional Court, Mikalai Khomichenka. He said that an official inspection was carried out, but "no evidence that the police officer Miachyslauski used phrases and expressions humiliating the honor and dignity of Stralts was found."
The regional court informed the human rights activist that there were no grounds for taking action against Judge Budrevich.
"Meanwhile, the judge was asked to maintain an atmosphere of goodwill in the court sessions, to make the participants of the process speak in a respectful manner when giving explanations or testimony," - the response from the regional court reads.