Belarusian Conscripts Unite Against The "Law On Deferments"
32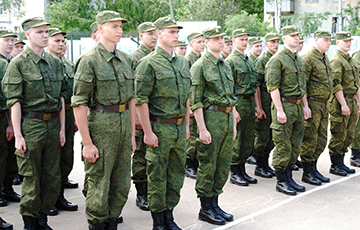 Young people intend to fight against the controversial bill.
A website protestby.live has been created on the Internet. Already 1200 people subscribed to the Telegram channel @protestbychat.
The organizers urge to actively fight against the "law on deferments" signed by Lukashenka:
"We are sure that you are among those who understand that education is more important. You want to see Belarus strong and prosperous, and our army - the pride of the country. Unfortunately, the "law on deferments" moves us in a completely different direction. But we can abolish this law.
OUR PURPOSE
Achieve the abolition of the draft law "On Changing the Laws on the Effective Functioning of the Military Organization of the State," which jeopardizes the education of students, as well as the economy of Belarus.
CONSEQUENCES OF THE LAW
EDUCATION
CONSEQUENCE NO. 1
Fewer undergraduates and postgraduates. The one-year break eliminates the accumulated knowledge and motivation to learn further. Accordingly, there are fewer scientists and fewer teachers. This means that the scientific potential of Belarus will be destroyed.
SOCIETY
CONSEQUENCE NO. 2
An even greater outflow of young people abroad. Loss of a huge number of employable active Belarusians. This means that effective enterprises and organizations will be created by Belarusians not in their own country, but abroad, the budget of Belarus will get less money in the form of taxes, pensioners will be doomed to starvation.
ARMY
CONSEQUENCE NO. 3
Demoralization of military personnel. Young people will not sacrifice themselves for the sake of the interests of the state, which does not care about their interests. Especially in the Belarusian army, which prestige has been destroyed, and suicides happen more often than in prisons.
PERSONALLY YOU
THINK ABOUT IT!
Today, the current government has created a problem for students. Tomorrow nothing will prevent it from creating a problem for you, too.