Investigative Committee Called Four Versions Of What Happened During Fireworks On July 3
13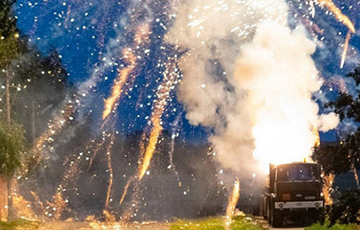 There were four explosions.
According to the IC, there were four explosions of fireworks during the fireworks holiday in Minsk, nn.by reports.
Firing units were destroyed and at least 10 citizens were injured by shrapnel. One woman died at the scene. In addition, nearby buildings were damaged.
The Main Investigation Department of the Investigative Committee initiated a criminal case under Part 2 of Article 463 (violation of the rules on handling substances and objects of high danger to others) of the Criminal Code. The liability provides for up to five year imprisonment.
An investigation team of the central body of the Investigative Committee, the Department of Investigation for Minsk and the Department of Investigation for Minsk region was created.
The versions concerning the case are being investigated:
- faults of firing units,
- fireworks malfunctions,
- Incorrect charging of fireworks,
- Incorrect operation of firing units.
Investigative activities are being carried out. The work on the scene of the accident continues, technical documentation related to the operation of the firing units and fireworks is being confiscated.
The witnesses, including the military, who loaded the fireworks, as well as the employees of the fireworks supplier are being interrogated.