Investigatory Committee Reveals Its Version Of Mahiliou Traffic Cop's Death
2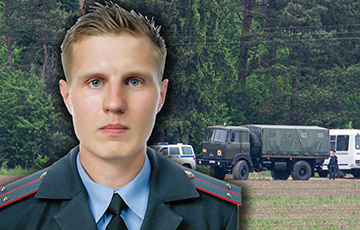 The criminal proceedings have been terminated.
The Prosecutor General's Office is studying the case of the death of a traffic police officer in Mahiliou. This was announced today to journalists by Chairman of the Investigatory Committee Ivan Naskevich, BelTA writes.
"Lukashenka was informed that the investigation had made a final decision to terminate the criminal case upon the discovery of the corpse of a police officer Patapovich. The investigation has no doubt that there was a suicide, there is a lot of evidence for this, said Ivan Naskevich. "The criminal case has been terminated and is being studied by the General Prosecutor's Office to assess the legality of the decisions taken by the investigation."
Investigators proved that on the day of death, the traffic police lieutenant from Mahiliou bought firewood and means for firing in the store, which he had brought to the scene in advance. While on duty, he, on a far-fetched pretext, left the service route, changed into civilian clothes, and took a taxi to the forest. "Until recently, we lacked one link - the taxi driver who gave a ride to the police officer. We identified and interrogated him. He gave evidence that matched with all the other evidence," the head of the office said.
The IC claims that the traffic police officer got into a taxi car himself, which is confirmed by the recordings from surveillance cameras, so there is no talk of abduction. "According to the conclusion of the examination, he could have inflicted on himself the gunshot wound that caused the death. There are only his biological traces on the gun, while the traces of a shot were found on the body. This suggests that the shot was fired at close range, that is, possibly at the distance of his outstretched or close arm," said Ivan Naskevich.