Investigatory Committee: Both Employees Of Russian Company And Belarusian Servicemen Cut Projectiles When Preparing For July 3 Salute
19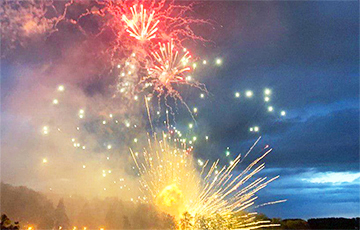 The purchased projectiles for the salute did not fit the mortars.
Chairman of the Investigatory Committee Ivan Naskevich spoke about the details of the investigation into the case of the explosion during the Independence Day fireworks, when one person died and another 10 were injured, on air for the Belarus 1 TV channel. According to Naskevich, the purchased projectiles for the salute did not fit the mortars, therefore, representatives of the Russian supplier company, as well as the Belarusian military men who prepared the salute, cut the charges and rolled them on a hard surface, although manipulation with a professional pyrotechnic product in the form of disassembly and refinement is prohibited . Earlier, Naskevich also noted that some of the products were expired, reports tut.by.
"It has been reliably established that the projectiles themselves, before being lowered into the mortars, were subjected to mechanical stress, which is not provided for by the technical documentation," said Ivan Naskevich. "Both the representatives of the Russian company and our servicemen, upon their recommendation, subjected the charges to cutting, rolled them on a hard surface so that they would fit. We have to find out the technical causes of the explosion: whether these actions led to the explosion.
The head of the IC also noted that a number of examinations were appointed in the case, namely the experts should answer the question of what became the technical cause of the explosion.
An investigation experiment will also be conducted. Investigators also check other aspects that preceded the salute itself - how they bought fireworks, why the Ministry of Defense bought products from one supplier for a long time, and on what conditions.
The Ministry of Defense purchased products from the Russian company Piro-Ross, whose employees said that fireworks of their own production in 2017 were used during the salute in Minsk. The company has been supplying products for the needs of the Ministry of Defense of Belarus for many years, the amount of the contract is about 20 million Russian rubles (over 300 thousand dollars).
The charge in the case was brought against two employees of the Russian company (Part 2 of Article 299 of the Criminal Code - "Violation of the rules for handling explosive substances, pyrotechnic products, resulting in the death of a person through negligence"), they remain in the remand prison. Two Belarusians related to the fireworks launch are mentioned in the case as suspects, as it was previously stated in the IC.