Alena Tserashkova: Our Officials Do Not Use Belarusian Medicines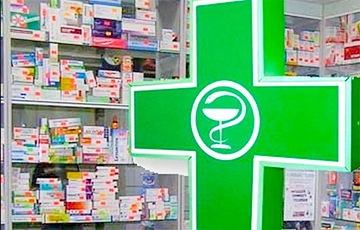 A doctor is speaking about the problems of health care in Belarus.
During a working meeting with the Minister of Health, Lukashenka said that "Belarus spends unacceptably much on the purchase of drugs abroad."
He also demanded a more thorough transition to the policy of import substitution. In addition to replacing half of the finished foreign drugs on the Belarusian market with domestic ones, he ordered to start producing our own substances for the medicines.
What can such a policy lead to in the pharmaceutical market? Professional doctor, maxillofacial surgeon, mother of four children, activist of the European Belarus civil campaign Alena Tserashkova answered the questions of Charter97.org.
- Of course I have an opinion in this regard. Our country desperately, badly lacks real professionals. Including in the government, maybe, the government even goes first in this. That is why, in one case the Ministry of Health Care is instructed "to simplify the procedure of licensing foreign drugs", and in the other case it is ordered to "tell your doctors to prescribe domestic medicines."
You see, these are mutually exclusive positions. And the most important thing here is that neither of them serves the interests of ordinary Belarusians.
If we return to the creation of analogues of foreign drugs, unfortunately, to call a drug Belarusian does not mean creating an adequate replacement. I asked some doctors I knew which Belarusian analogues of foreign drugs they consider to be really high-quality. In response, I heard only several names. We are fully confident that our country can produce a very limited amount of adequate drugs that could replace foreign ones.
For example, drugs that have the same name in Germany, for some reason, act much better than their Belarusian counterparts. When patients come to us, we always ask what drug they use: ours or German. The dose and the effectiveness of the drug in the body depend on this.
This is at least unfair. A person who comes to the pharmacy should not think where the drug is produced. If the two packages have identical names, then they should act the same. Another difficulty is to choose an effective course of treatment using the Belarusian counterpart.
Unfortunately, Belarusians are quite irresponsible about their health. They need a pill that works quickly, efficiently, for a long time, and even the price should be appropriate. Therefore, the authorities can speculate on this, given that our people have small incomes. This whole situation is outrageous because Belarusians are simply deprived of the right to choose. Moreover, I do not think that our officials use Belarusian medicines.
- An information has repeatedly appeared recently, that the Belarusian doctors have been recommended to prescribe domestic drugs. Is this true?
- I can say that every doctor has own conscience and responsibility. If the superiors force him or her, let them write down a Belarusian drug on the prescription form, and a foreign analogue below. I think my colleagues will act exactly like this, when addressed by the people who care about their health. If a person doesn't care or seems unwilling to strain their brain, they will be only happy if the doctor prescribes a cheaper Belarusian drug.
Another point, the price difference between foreign and Belarusian drugs is so significant not for the reason that ours are much cheaper, but because it is very difficult for a foreign medicine to get a license in Belarus. Manufacturers are forced to include these costs in the cost of drugs.
Having created such conditions for licensing, the state artificially raises prices for foreign medicines.
- Lukashenka has also urged to switch to the manufacturing of medicines from the domestic substances. Will this worsen the quality of the Belarusian drugs even more?
- In this way you can go far. Let's create our own raw materials, let's look for the necessary components from local manufacturers, let's create medicines on our own equipment. And what will we do? Will European standards be respected?
The conclusion suggests itself: the system lacks professionalism in all areas. We sharpen curved nuts, grow crops that we cannot preserve. The same thing will happen with Belarusian drugs.
Professionals must come to the market. But the authorities simply cannot allow this, because our pharmaceutical market will not stand such competition.
- Will Belarusian drugs become more expensive due to such interest from the side of the authorities?
- The answer is very simple. Medicines will become more expensive because there is inflation in Belarus.
- Many Belarusian hospitals do not accept foreign drugs. For example, when doing tests for cancer-specific markers. Will such policy corner the patients?
- I do not work in this area and cannot say for sure. But if a patient comes to me and brings anesthesia that suits him better, I just can not accept it. A Belarusian drug should be used. Exceptions are pretty hard to negotiate. This is a small thing, but the fact is that it can be a trend that significantly worsens the lives of patients.
- Lukashenka stood out with this statement on the eve of the "parliamentary election". How do you assess the possible consequences of his words?
- There are no elections in Belarus. But the people surely heard him. Those who are capable of thinking will be skeptical of this, ironize. The statement on Belarusian drugs is likely to become something like the joke about "500 Bucks Each".
- Are you going to participate in the electoral campaign?
- I'm going to run for the "House of Representatives." I understand that Belarus needs a new wave of people who are not afraid to talk on the streets about their disagreement with the authorities, about their political position. I have no illusions that they can let us into parliament, but we will go to the people, use the election campaign. We will use the increased interest of Belarusians in politics. After all, people care about who controls them. They just got used to the fact that they do not decide anything. However, no regime is eternal. And we will use all legal opportunities and authority and change the power.