Veranika Mishchenka: Lukashenka Must Resign to Make Belarus the Country for Life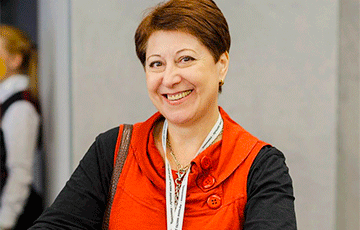 80% of Belarusians long for changes.
Veranika Mishchenka, video marketer, member of Mikalai Statkevich's People's Hramada, gave an interview to Strana Dlya Zhizni (Country for Life) channel Siarhei Tsikhanouvski. She described the situation in Belarusian politics and on Belarusian Youtube.
Veranika decided to participate in the parliamentary campaign in 2019. According to her, "this is not about the elections." There are no elections in Belarus, so she does not aim to get into the Belarusian "parliament."
However, participation in the parliamentary campaign provides a legal opportunity for rallies, pickets and communication with the population throughout the country. It is also an opportunity to spur to activity and, if necessary, resist a possible "referendum" on joining to Russia.
"I am a realist. I know what country I live in. I want to change this country to have normal deputies in it."
"People's Hramada is a social-democratic party. All we seek is fair elections, an independent judiciary. What do we, entrepreneurs, need? To make the laws work and not to prevent us from working. We also want rules to be maintained. So that Belarus could be the country to live in and the president could be elected."
"Why are we going to run the "elections"? Our slogan is "Lukashenka must resign." We will run this campaign until 2020. When there will be a collection of signatures, we can legally collect signatures and express our point of view."
"Should we participate in "elections"? No, because no one will take into account our vote. I think the square is the best option."
Belarusian bloggers (video bloggers) were discussed a lot. In recent years, for many Belarusians, YouTube has become the main source of information about the situation in the country.
80 per cent of Belarusians longs for changes. The demand for criticism of the authorities is rising. Therefore, the most famous political bloggers are those who revile the authorities. After the marches of "parasites" in 2017, such bloggers became an outlet for Belarusians in the morass of news.
But blogging is a huge work and expenses. Many of those who became heroes on the wave of protests in 2017 simply faded away. Others hype on the seamy side. Others try to entertain the public and avoid serious topics.
But there are also positive examples: Country for life, Gomel Society, Rudobelskaya show-off, Samokrutkin, People's Reporter, MozgON and others.
Veranika also shared her personal experience. Living in a town, she has a good job and now works remotely. In her opinion, this experience can be useful for residents of towns with high unemployment rates.
"I am from Zhlobin. It lacks jobs. Income is low. One depends on a certain enterprise. One depends on an employer. When I decided to turn to the Internet, I had a good job: I used to work as a designer at the Zhlobin meat processing plant. But I was not free. That's why every day I studied and got a popular profession on my own.
Every day before and after work I studied for several hours. Use your spare time and money for training!