Mikalai Statkevich: I Am Ready to Fight for Belarus While I Have Breath in My Body
48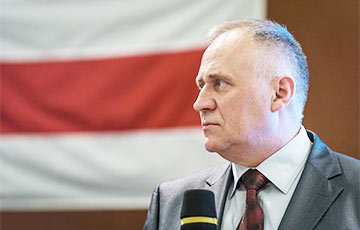 The Belarusians have a historic chance.
Russian Kommersant has published an article about the plan for uniting the economies of Belarus and Russia. It is about a single Tax Code, foreign trade regime and the Civil Code, unified property registration, almost unified banking supervision, a single regulator of oil, gas and electricity markets.
Mikalai Statkevich, the leader of the Belarusian National Congress, commented Charter97.org on the situation in connection with the publication of plans for "integration".
- How could you assess the information published in the Russian media?
- Lukashenka is now sitting in the side pocket of Putin's jacket who says: "I'm going to put you in the inner pocket. Lukashenka does not like it. He's sending signs for the West, but he's not ready to jump out of this pocket and stand on his own feet.
Real independence is what he is most afraid of. Independence means economic and political reforms he will never dare to.
Dramatic events are likely to happen. Belarus is to face changes whether we want it or not.
I want to say those who are afraid of them that this is a great chance for us. At the beginning of dramatic changes, different scenarios may occur. There are good chances for us to win back our freedom and independence.
After all, there is a major factor we missed before: Belarus does not want the dictator, it wants a responsible government and democratic policy. Belarus longs for reforms.
The strongest unifying idea we have is hatred for Lukashenka. It is a "negative" idea, but "positive" ideas - the desire for changes, a decent life, normal elections - have filled hearts of Belarusians.
History provides us with a great chance now. If we just demonstrate our will and determination, remember our leadership, as representatives of the BNC, then people will follow us.
I think that when a general uprising against the dictatorship begins in Belarus, Russia will hardly risk interfering. Of course, they may try to impose their politicians on us, but we must stay strong.
Whoever overthrows the old power is in charge of the new one. People's respect for us, the desire to consider us as an alternative, will depend only on our strength, courage, and desire to lead people.
- You have talked to many people during your trips to different cities of the country - both in summer and now, during the campaign for signature collection. What could you say about these trips?
- Belarusians long for changes. It's obvious. Belarusians of different political views hate Lukashenka and this is a very important conclusion for me.
In summer, I described my impressions with words fear and hope. There is more hope in the western regions of Belarus. The Vitsebsk region is the most determined in the country ready to act.
In fall, we hold meetings outdoors. It demonstrates less fear and more willingness of people to take risks. After my meetings with people in Mozyr and Kalinkavichy, the organisers talked in sound sound-amplifying devices: "Who is ready to join the initiative group of Lukashenka's "main enemy"? Who wants Lukashenka to leave?"
A lot of people joined my initiative groups in these cities.
Therefore, I think that many people have already overcome their fear. By the way, about a thousand people joined the initiative group of the BNC presidential candidate. It was done within eight days of pickets.
We can attract thousands of new people to the movement for a free and independent Belarus under the leadership of BNC.
I do hope that everything will work out. The most important thing is the desire of Belarusians. Now we see that 3% is enough for changes, but they should feel the moral support of the majority of their citizens.
Only one thing remains: to make Belarusians believe that they can overthrow the dictatorial regime and win back their freedom.
- You are a representative of the Belarusian nobility. The history of our nobility shows many inspiring examples - the same Tadeusz Reitan, for example. Are you ready to follow these examples?
- I can speak for myself and my closest allies: we are ready for anything. When we say that we will stand until the end for Belarus, it means that we will do. Until the end of our lives.
I am ready to fight for Belarus while I have breath in my body. I will not give up. This is my land. It is covered with the blood of dozens of generations of my ancestors. I can remember the names of my forefathers, who fought with the enemies that outnumbered them. Their blood is running through my veins. I will not back down. We will not surrender Belarus. Finally, we have a new chance. We have waited hundreds of years for this chance and we will not miss it again. We will hold on to it with our teeth.