Daily Routine Of REP Trade Union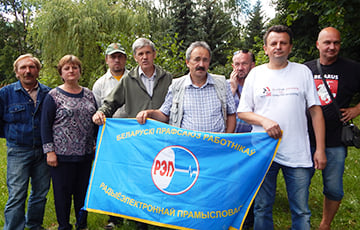 In just two months, the REP union helped to return about BYN 100 K of illegally withheld funds to its members.
The vacation season has passed, harsh working days have come. The REP trade union office in Minsk already worked in the emergency mode in the summer, but now the burden on the union employees has increased significantly.
Praca-by.info talked with Henadz Fiadynich, the leader of the REP trade union, about the working days of the union and the problems with which people come to the office at Kulman Street, 4.
- The priority of the REP trade union, along with planned activities, remains the provision of legal assistance. Only in Minsk, our office gets about 10-12 calls daily, as a rule, from non-union members with requests for help.
Here are a few examples. A man worked as a chief engineer at the enterprise for more than nine months (a construction company), but he was never paid at the rate of a chief engineer. Moreover, there is no entry in the workbook that he worked on this position. Naturally, we will turn to the court with a request to restore the rights of the employee and collect not only wages, but also payments for each day of delay.
Or, in general, a landmark case, in which the Ministry of Architecture and Construction appears. A woman worked in a successful IT enterprise, which suddenly became unprofitable and was liquidated. But the woman was underpaid a sufficiently large amount - about 6 thousand rubles. It would seem that no enterprise - no problem? But there are problems, since the crisis manager did not do everything in accordance with the law. The case is not simple, but we plan to bring it to its logical conclusion.
Pensioners also have very rough times in our country. For 70 years, a pensioner who previously worked for a Russian company in Algeria received a pension taking into account his work experience in Russia. Then, suddenly, an official from the pension commission in the administration of the Pershamaiski district of Minsk found out that there was no supporting document from Russia that the money had been contributed to the Pension Fund. The Department of State Inspection for Labor duly reacted and suggested that the commission should send a request to Russia. Employees of the pension funds in Belarus should be aware that from 2001 to 2010 there was no Pension Fund in Russia, there was a single tax, which was transferred also to retirement. Nevertheless, a person was illegally deprived of a part of his pension, and he walks around bureaucratic offices ever since…
And one more example. We were contacted by employees of the enterprise, which belongs to the Presidential Administration. The trading house "Vostochny" revealed a shortage, and the employer set a tight deadline for its repayment. Meanwhile, the employees for a long time pointed out to the employer that the rules for storing material assets were not complied, cash registers did not work. But the employer ignored all appeals, on the contrary, addressed to the prosecutor's office with a demand to hold employees accountable. This is beyond everything, and reminds of elementary blackmail! After all, not 5 people turned to us, but 15 people! We intend to take control of this matter and help our new union members.
This is just a superficial section of the problems raised by the union visitors last week; according to my feelings, this week will be no easier. There are a lot of questions, but, unfortunately, neither the official trade unions (our visitors in the four cases mentioned above were members of official trade unions), nor the representatives of power structures who persecute citizens in a circle, do not deal with the problems properly. So why do people need such unions and such officials?
But the main misfortune of the society is the widespread legal illiteracy of our population. When you know your rights, then you can protect them.
- What problems do people most often turn to the union with?
-Contract for work and labour, non-payment of funds stipulated by the contracts, material liability, pensions. And, unfortunately, a question that has remained relevant for a long time: how to quit before the contract expires? This problem is important for workers in both the state and non-state sectors of the economy.
- More often non-union members apply to the union, however, REP has the right to provide assistance only to its members. How do you get out of this situation?
- We are honest with people and frankly say that under the law we have no right to help non-members of the trade union. But we give them free advice. If a person is ready to further defend their right independently - thank God, if not - people join the union, pay dues, work, and in return receive professional union protection. We cannot and should not refuse a citizen who joins a union in real legal assistance.
- Does the union refuse to help visitors?
- Some people have independently passed all possible judicial instances, reaching the Supreme Court - but the problem has not been resolved. People without legal knowledge make mistakes protecting themselves. In such cases, we honestly tell people that we do not see new, newly discovered circumstances in the case, so we can't help. However, there are a number of cases where it was possible to help at the initial stage, and if a person came to us on time, the outcome would be completely different.
- But REP legal services work not only in Minsk, but also in the regions.
- Legal services work in Homel, Brest, Mahiliou, Minsk, and volunteers also work. This, of course, is not enough. They say REP is a non-classical union. People say this, and thank God that there is such a non-classical union that is in demand. If there were more such unions, it would be much easier for us to work in the classics of the genre: collective agreement, employer, tariff agreement. Thus, conducting the negotiation process is much easier than going through the courts and authorities; our legal inspectors are well known in district, city and regional courts. Therefore, I want to tell everyone: call, come on time and never fall into despair.
It's not those who have the power that are in the right, but those who are right.