Aleh Bebenin Passed Away Nine Years Ago
22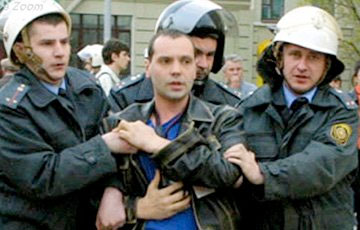 On September 3, 2010 the journalist was found hung in his summer house near Minsk.
Aleh Bebenin was born in 1974, Kostroma (Russia). He graduated from Journalistic Department, the Belarusian State University. In the 90s we worked as deputy chief editor of independent Belarusian newspaper "Imya".
He founded and headed Charter97.org since 1998. Aleh Bebenin had wife and two sons.
Law enforcement bodies immediately recognized it as a suicide. However, his death is increasingly questionable. Medical examiners get mixed in the date of his death. No farewell message was found. Friends and colleagues who were at the scene say there were traces of force on his body.
Several months later Prosecutor's Office suspended "examination" upon death of Aleh Bebenin despite of claims of international organizations and civil rights defenders to conduct a proper investigation.
Representatives of the democratic society announced it a "political murder". Aleh Bebenin passed away on the eve of the presidential campaign of 2010 which ended with brutal dispersal of Square in Minsk. Journalist was in the team of one of the main opponents of Lukashenka - leader of the European Belarus civil campaign Andrei Sannikov.
Everyone remembers what happened to some opponents on the presidential elections in 2001. Yury Zakharanka, Victar Hanchar, Anatol Krasouski, Zmitser Zavadski were kidnapped and murdered; the appropriate investigation has not been conducted yet.
Russian journalist Pavel Selin: I'm still convinced it was a murder
"He was so confident of his truth that, as we know, it brought him to a tragic end. I'm still convinced that it was a murder. No one will ever convince me that he could commit suicide. All these "evidence" are dragged in by the head and shoulders. I am sure he was murdered for his beliefs. For his not compromising.
I do hope that sooner or later - I wish it would happen sooner - the murderers and customers were found and held responsible. The dictatorship is not eternal. One day it is over, and murderers of Aleh will be punished. I do hope that these will be the people who gave the order. I think they come from the top leadership of Belarus.
Film director Yuri Khashchevatski: The authorities quickly realised the inner power of Aleh Bebenin
"Aleh's death is a great tragedy, a great loss. I am sure there was a reason for Aleh to pass away: the authorities quickly realised his inner power. They decided to use the hardest and the most cynical method, not knowing how to cope with him.
It is not common for a person who has passed away to have his campaign continued. We will never forget him. And thank God that Aleh's work continues.
Leader of the European Belarus civil campaign Andrei Sannikov: Our team is missing Aleh Bebenin
"It's a shocking fact that young a man full of strength passed away. I believe it happened not of his own free will.
Our team is missing him. This feeling is still acute. Especially since we remember who he was and how he worked. He was a unique crisis manager.
He could focus in a moment and show the highest level of efficiency in any situation. It was true both for technical and strategic and tactical issues.
Zmitser Bandarenka, coordinator of the European Belarus civil campaign: We are investigating this case
"KGB officers who interrogated me said: "You know that Aleh Bebenin died for a reason. When I asked: "Do you confess to his murder?" They said, "That wasn't us".
I'd like to say that we are investigating this case. It will happen.
Perhaps, my task is to achieve our goals, Aleh fought and lived for - to make Belarus free and independent and to return free, full-fledged journalism to our country.
As soon as the government changes, we will know the truth about the death of our colleague. A criminal case on the tragic death of Aleh Bebenin will be certainly initiated, and the best Belarusian criminalists will investigate it.