Yauhen Afnahel: Lukashenka's Fate Is Sealed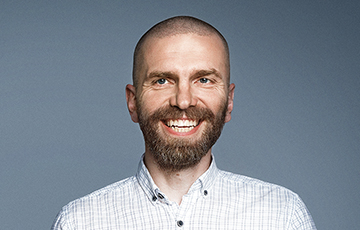 The dictator is aware of the real level of his 'support'.
A unique situation has developed in Belarus since the New Year: for the first time, Lukashenka was unable to agree with the Russian leadership on oil supplies at preferential prices. As a result, since January 1, at the state level, Russia stopped supplying oil to Belarusian refineries.
They also managed to agree on gas prices only for the first two months of 2020.
Against this background, Minsk has stopped the export of oil products, fearing a shortage of fuel in the domestic market.
What does this mean, and how can the situation develop further?
Coordinator of the European Belarus civil campaign Yauhen Afnahel is answering the questions of the Charter97.org news website.
- Lukashenka, probably for the first time in his reign was left without cheap Russian oil, and with dubious prospects for other energy resources. How do you comment on this situation?
- In fact, it is not the first time Lukashenka has faced similar problems. Instead of reforming the economy, he put Belarus on the Russian oil and gas needle. Every year, the dependence on Russian subsidies increased. The fundamental difference is that before he had something to offer in exchange for cheap energy and subsidies from Russia. He gave away what he did not really need to maintain power, but attracted the Kremlin. It is clear that the list of such facilities and services is limited. It seems that now meeting Putin's requirements is critical for extending the dictator's power. And there is no doubt that this is not about the price of oil.
- Journalist Iryna Khalip expressed the opinion that Lukashenka is trading with Putin not for oil, but for support in the 2020 elections. Economist Leanid Zaiko also believes that the main thing in the "oil and gas war" is not the integration agenda, but the issue of Lukashenka's power, to which the Kremlin awarded the "black mark" on January 1. What do you think - for what purpose does the Kremlin put pressure on Lukashenka?
- Lukashenka knows about the real level of his support. Putin also knows this, and understands that the people will take the seventh presidential term of the unpopular dictator with hostility. The Kremlin fears protests in Belarus, which are inevitable if Lukashenka participates in the elections. This will hit smuggling schemes in which our country plays a key role. Destabilization in Belarus is unprofitable for Putin, he thinks how to avoid it. I do not exclude the possibility that they demand that Lukashenka should refuse to participate in the elections scheduled for this year.
- What other factors play against the Belarusian dictator in 2020?
- The most important factor is the impoverishment of Belarusians and the lack of prospects in their country. Rising prices, communal tariffs, new taxes - all this after all does not pass without consequences. It is impossible to find a normal job outside the Minsk belt road. Thousands of people come by morning trains to Minsk. These are residents of Barysau, Maladechna, Maryina Horka, and Stoubtsy. They do not go on some city tour, they go to earn at least something in order to survive. And what about those who live farther from Minsk? What should pensioners do, if the whole pension goes to pay for housing and a minimum set of products? What should those who want to live a normal life, and not just survive, do? Going to work abroad? This process has been going on for a long time. Belarus is losing its population - every year more and more. This is extinction, and emigration.
We clearly saw this during the "parliamentary campaign". For two months, our activists talked to dozens of thousands of people - both at the pickets and during the collection of signatures in people's apartments. We have not seen supporters of the dictator; a couple of provocateurs and inadequacies do not count. People talked about their lives, about salaries, about the lawlessness of officials, about how they were being bullied by government officials. Pensioners talked about how their grandchildren are looking for an opportunity to leave Belarus. Middle-aged people talked about how they were forced to take several jobs to feed their families. Many came up, when they saw the EU flag, and simply asked if we could help find work there, abroad. In fact, the number of such questions is scary. But even more it should scare the current government. Against this background, the dictator's desire to go for the seventh term speaks not only of his inadequacy, but also of the lack of the self-preservation instinct.
- It is noteworthy that not only serious analysts, but even astrologers say: Lukashenka will not be there soon. How do you think the upcoming events will develop?
- It depends on us. The key question that worries everyone is "what's next?". The vast majority of Belarusians want changes, but at the same time they are waiting to be offered a certain plan for implementation. People are looking for an answer, not only among opposition politicians and public activists, but also in the media and the Internet. It can be seen that the popularity of independent sites, bloggers who write and talk about real problems of people and offer ways to solve them, is growing. If we can answer this question together- the problem will be solved very quickly, this year.
- What would you like to say in connection with this to the main players in the political field of Belarus: the citizens of the country, representatives of the political opposition and, finally, Lukashenka himself and his entourage?
- I have nothing to tell Lukashenka and his entourage. Their fate is sealed, and it is unlikely that something will change it. This is not even a matter of time. But it's all time for all of us to realize ourselves as a people, to understand that we are the majority, to remember our dignity and honor, and to cease to suffer humiliation from the side of an aging unpopular tyrant. Start living, not surviving.