Lukashenka Is Trying To Hold On To Power Through "Oil Disasters"
VALERYJA KASTIUHOVA
13.01.2020, 16:14

2,463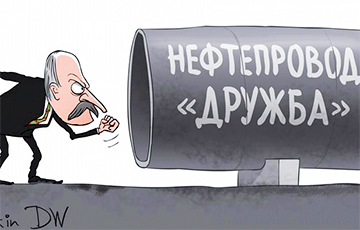 The oil and gas wars with Russia go with the presidential elections.
The permanent battle with Russia for oil and gas is the foundation of Lukashenka's regime. Moreover, the catastrophic situation, on the edge of which the country has been balancing all these years is vital for extending Lukashenka's rule.
Aliaksandr Chubryk in his wonderful work "Oil in Exchange for Everything. The Brief History of Belarusian-Russian Relations in the Oil and Gas Sphere since 2007", drew attention to the fact that the cycles of conflict aggravation with Russia over oil and gas strikingly coincide with the electoral cycles.
Indeed, the battle with Russia for oil and gas is constantly reproduced on a new round. In this battle, as well as in that electoral one, the cycles of which so strikingly coincide with the Russian-Belarusian conflicts, there has always been the same winner for 25 years.
Noting both the cyclicality and constancy in the disputes about the conditions for buying Russian gas and oil, the unproductivity of these disputes and the atmosphere of uncertainty created by them, which prevents economic agents, including state ones, from building long-term development strategies, Aliaksandr Chubryk expresses hope:
"One way or another, we are approaching a situation where the certainty of having long-term contracts for the supply of Russian oil and gas, even if at market prices, becomes more valuable for companies and the public than short-term benefits dependent on political demands. It would save a lot of time for top officials and common civil servants, who now go into negotiations and constant work on documents, the meaning of which is not to be ever agreed on".
Similar hopes were expressed during the expert club meeting by Artsiom Shraibman and Siarhei Chaly.
I do not share these hopes, and here is why.
First of all, I tend to think that if the Belarusian leadership constantly spends a significant part of its time and energy on negotiations with Russia, and sometimes sacrifices budget revenues for the sake of continuing the confrontation - as it was in 2016 and is likely to be in 2020 - it is the negotiations and confrontation itself that serve unmanifest but important purposes.
Secondly, I seriously believe that an authoritarian regime has been established in Belarus, which means that the main goal of the country is not its development, citizens' welfare or high GDP, alliance with Russia or freezing of relations with it, but retention of power and preservation of strict social hierarchy.
Thirdly, if we recognize that this main goal has been consistently achieved over the past 25 years, it is recklessly to assume that the relatively constant elements of the authorities' policy (including the cyclical conflict with Russia over oil and gas) are either accidental or made by mistake.
In other words: the permanent battle with Russia over oil and gas is the foundation of Lukashenka's regime. Even more: the catastrophic situation on the edge of which the country has been balancing all these years is vital for extending Lukashenka's rule.
Let us try to imagine: Russian and Belarusian companies (as business and state structures of other countries do) conclude contracts for energy supplies in a convenient and mutually beneficial regime for two or four years. This is reported by news agencies, there's no intrigue.
If these supplies do not make the fate of the country tremble in the balance, if people, whose names are remembered only by the most conscientious journalists, are capable of agreeing on them, then what is Lukashenka supposed to do? And do the people need him for 25 years and more?
No, except for a potential catastrophic situation and mobilization to prevent it, there is simply no other thing that can explain the astonishing stability of the regime, which does not depend either on economic successes or failures, or on the ratings of the authorities and state bodies, or on the expression of the voters' will.
Today, in the midst of another battle with Russia and on the eve of another battle with voters, Lukashenka says: "This is a critical period in our state's existence. We are not just walking on thin ice or a blade. We are going and staggering from left to right and God forbid a wrong step - we will lose everything".
And when was this period not critical?
Here is another quote: "You have noticed that lately in my speeches I have often spoken about sovereignty and independence. Believe me, it is from the bottom of my heart". And then: "We must stop "roaming" along our peaceful streets. We must stop all sorts of talk about sovereignty and independence".
In short, no one but Lukashenka should talk about independence and sovereignty, but he does it "from the bottom of his heart".
A common opinion in the democratic community is the belief that the Kremlin is attacking Lukashenka, that it is constantly pressuring him, and he has to defend himself. Apparently, one should recognize a certain victory of the state propaganda that has managed to create a quite convincing image of Lukashenka as a hero and defender.
But with what weapon (argument) is Moscow attacking now? Moscow is ready to sell gas and oil on last year's terms, which are still the best in the region. Belarus is not ready to buy them on the last year's terms, it wants them cheaper.
Moscow has agreed to supply 24 million tons of oil in 2020, i.e. +6 million tons for processing, which would partially compensate for the shortfall of revenues due to the tax maneuver - these are export duties on oil products squeezed out of these 6 million tons. (which is slightly less than the export duties on crude oil), plus revenues from the sale of oil products from these 6 mn tons (which is more than the zero revenues we had on this account in 2018-2019).
That is, these additional 6 million tons can well be considered the compensation for the tax maneuver. These are not brilliant, but still normal conditions.
However, Lukashenka explains: "In a nutshell, here's the reason why we haven't agreed on oil with the Russian president. It is because Russia wants us to buy oil at prices that are higher than the world prices. Who does that?! That's why I nixed such oil".
However, so far there is no other evidence (except for the Belarusian leader's words) of Russia's intention to sell oil above the world price level. Just as there is no evidence of Russia's desire to sell gas not at USD127, but at USD152 per thousand cubic meters.
What is the purpose of the flood of information about Russia's exaggerated appetites? The goals to win: to make the agreement on last year's terms look like a breakthrough and a success. However, for the sake of this victory the refineries and the budget will have to suffer losses again. But they are no strangers to it.
Valeryja Kastsiuhova, "Our Opinion"