Andrei Sannikov: Kremlin's Pressure On Lukashenka Will Escalate
28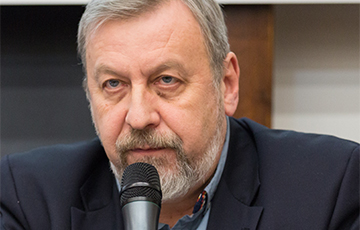 In this situation, Belarus needs a change of power at all levels.
Yesterday, Russian President Putin announced large-scale changes in the country's Constitution, which stipulate serious redistribution of power.
Immediately after this, the entire government of the Russian Federation resigned, and instead of Dmitry Medvedev, Mikhail Mishustin was appointed future prime minister.
What do these changes mean for Russia itself and its neighbors?
Leader of the European Belarus civil campaign, presidential candidate of Belarus in the 2010 elections Andrei Sannikov is answering the questions of Charter97.org news website.
- What, in your opinion, happened in Russia and what consequences will this have, first of all, for the Russian Federation itself?
- In general, a coup d'etat was announced in Russia yesterday, which is exactly how it should be taken. Amendments to the Constitution were announced for the indefinite preservation of power of a criminal illegitimate group led by Putin, which is now in the Kremlin. Moreover, in order to mislead the citizens of Russia, it was cynically called "a refinement of the Constitution."
Three main points should be stressed here.
First: Putin introduces a new state body - the State Council - into the basic law, by an unconstitutional way. And most likely, it will be the body that Putin plans to head in order to maintain power - that is, the main executive body in Russia. A kind of Politburo 2.0.
Second: in Russia, they actually proposed to destroy local self-government, which until now has been at least formally separated from the state power. Now they plan to build the vertical of power from the Kremlin to the last village - to ensure complete obedience.
The third is Russia's withdrawal from the international legal field. Today, Russia does not take into account the norms of international law, but it is planned that this will be enshrined and more clearly spelled out in the Constitution and other laws. The Russian Federation will now be guided by its domestic law, which, as we know, is very, very conditional and often has nothing to do with law as such.
These are the three most dangerous things that will be implemented.
And the fact that a person from the ruling group, from the "Putin system", most likely an FSB officer, was appointed Prime Minister, although this is not advertised - this only confirms how serious and dangerous these plans are for Russia itself.
- And what can they turn out for the neighbors of the Russian Federation, first of all - for Belarus?
- The consequences for Belarus are primarily connected with the rule of Lukashenka, who made our state completely dependent on Russia, or rather, on the Kremlin. The Kremlin will not make any concessions to Belarus.
Moreover: there will be a more pragmatic attitude to the practice of recent years, primarily to the financial subsidization of the Lukashenka regime.
The regime itself will probably be supported, but not to the same extent as before. And in the appointment of the tax specialist Mishustin, the person who collects taxes, also speaks in favor of this. And now he will be doing it both all over Russia and abroad, in the territories dependent on the Russian Federation, and in the dependent states. I think that tough fiscal policy will primarily affect Lukashenka.
In addition, Russia's desire to leave the international law means that now it will consider the relations with Belarus basing on its own preferences, without paying special attention to the international law governing relations of sovereign states. On this side, the danger to our statehood is growing.
- How will the oil and gas conflict and the issues of "deep integration" develop in the context of these changes in the Russian government?
- The "in-depth integration" has not disappeared from the agenda. It's just that earlier it was associated with the fact that Putin will try to solve the issue of retaining his power, not limited by authorizations or terms, by betting on the "union state", but now it's clear that another scenario was being considered. And, perhaps, all these gestures were a kind of smoke screen.
Nevertheless, the goals of Russia to completely subordinate Belarus with the help of Lukashenka remain. The imperial Russia has not gone anywhere for hundreds of years - and now it has not disappeared. The danger posed by the Kremlin is still immense. But once again I emphasize: this danger is increasing due to the fact that Lukashenka's regime rules in Belarus.
Today, Lukashenka is deprived of any room for maneuver in relations with Russia; he will be forced to submit and give away more and more of our property, and trade sovereignty, for handouts.
All this, of course, will affect the supply of oil and gas from Russia. There are a few points here. Firstly, Lukashenka is simply not perceived as a partner for negotiations. He was put in the position of a beggar, who should be pleased with what he is given.
The second point: no diversification of energy supply sources takes place in Belarus itself, which further exacerbates our situation. And those fantastic projects that voiced by the authorities, if implemented, mean that we will receive all the same Russian oil, only more expensive, because we will also pay to intermediaries. I am saying "we" by no coincidence: all this puts a burden on us, the citizens of Belarus, on the Belarusian people.
- Recently, independent experts have voiced the information that the Kremlin knows about Lukashenka's extreme unpopularity in Belarus, and gives him signals that they will not support his nomination for the next term. How, in your opinion, will events develop in this direction now?
- Indeed, Lukashenka has brought this whole situation to such a state that the Kremlin threatens both our security and his own well-being. That is, his own policy of stealing and doing nothing.
This is not only visible from the Kremlin - it is visible to everyone: the inadequacy of Lukashenka's behavior, the complete collapse of his economic policy, his unwillingness to carry out any reforms. Therefore, I think that in the coming year we should expect changes. But this does not mean to sit back - we need to do something so that these changes bring good to our state, not the regime.
I want to draw attention to the fact that Putin started this whole coup long before the end of his term in office. And most likely, all changes will be carried out before the next elections to the State Duma. So far, they are planned no later than September 2021, but can be held sooner.
There are several reasons for this, one of which is that today the State Duma is completely obedient to Putin, and he is apparently not quite sure whether he will be able to provide the same obedience in the future. And the second reason is that he needs to somehow raise his rating, and evade responsibility for obvious economic failures. I think that the Kremlin pays attention to the fact that Putin's rating is unstable today, and many blame him for the fact that nothing positive is happening in the Russian economy. Therefore, in his message there were again so many promises, and some of them this time will have to be fulfilled.
- What conclusions can be drawn from the current situation?
- Today, as never before, it is obvious that Belarus needs urgent changes, and these changes have nothing to do with the Lukashenka regime. Only a change of power at all levels will help Belarus withstand this difficult period. And it will really be a very difficult time, and pressure from Russia will only escalate.
This year may be decisive for the fate of Belarus, and not for the Lukashenka regime.