Explosion In Brest: 200 Square Metres Of Garages Crashed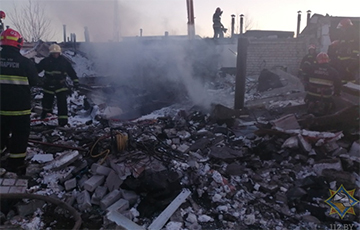 The cars have been damaged, three people have been hospitalized.
The emergency occurred in the regional center on Thursday, January 16. Details were reported in the press service of the Ministry of Emergency Situations.
The explosion in the garage cooperative of Brest on Kommerchaskaya Street was heard at the end of the working day, at about 4.40 pm. Rescuers immediately arrived at the scene on call. The picture was depressing: about 200 square meters of garages were in ruins, a fire started under the rubble, some people were injured.
- Three victims were rescued and handed over to medics: two men and a woman. They have injuries of varying severity, - the press service informed.
There was no open fire at the scene, the flame was hidden by rubble. The burning area was about 10 square meters, the fire was quickly localized and eliminated by firefighters.
- Rescuers used engineering equipment to dismantle the buildings at the scene. In addition to the buildings, 5 cars were damaged as a result of the explosion: two cars were under the ruined garages, while three others were standing nearby, but also damaged the building constructions, - said the Ministry of Emergency Situations.
At this point, the cause of the explosion has not yet been determined.