Dzmitry Kazlou: Our Goal Is Free Belarus Without Lukashenka
10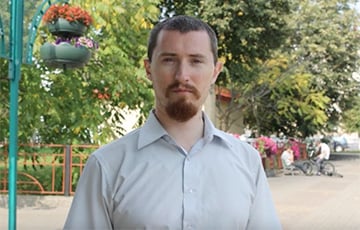 The blogger Grey Cat gave an interview after his unexpected release.
Activist of the European Belarus civil campaign, Dzmitry Kazlou was released from the detention center in Orsha late in the evening on January 20. He spent almost a month behind bars, celebrated Christmas and New Year there. He faces the other two months of arrest. Six administrative cases were opened against the well-known video blogger for participation in the actions that took place in December last year. Each of them ended in 15 days of arrest.
- Today, right after the evening check-up, I was taken to Deputy Chief of Orsha police department," said Dzmitry Kazlou to the press service of European Belarus. Referring to the disinfection in the detention center, he said that he had decided to release me for a few days. I got my things back. They hinted that I'd be back soon. In fact, this is not a real release, but a sophisticated form of torture. Now I don't know exactly when I'm going back to prison. My all rallies resulted in 90 days of arrest, most of them I'm likely to be serving soon. Today I was simply released on licence. According to it, I must return to prison at the first request of police officers.
- Nothing was known about your arrest for almost five days. How and where did it happen?
- December 25th, at about 8:45 p.m. I arrived in Orsha from Minsk. Major Novik, who I'd already known before, detained me. They captured me right at the station, put me in a car and took me to the police department. They gave me no opportunity to call anyone. On December 26, the hearing was held behind closed doors. I was sentenced to the first 15 days of arrest. A week later I had more court decisions, then more and more.
- What are the confinement conditions?
- Until 31 December I ate what they gave me. This cannot be called food in the normal sense of the word. These products let you not to starve to death. I had not seen any meat at all before I got my food parcel.
My cellmates were ordinary people who got there because of drunkenness or petty hooliganism. They were shocked that one could get 15 days of arrest for posting on the Internet. People were puzzled by the authorities' attitude towards me.
- What is the reason for such an attitude?
- I guess it is revenge for the active actions during the election campaign. After all, Orsha hasn't ever had so many pickets before. Of course, it's also a reaction to the actions held in Minsk, to the popularity of the video blog. There was a reason why European Belarus suffered the most on the eve of the New Year holidays. I assume the authorities were also angry about my speech at the rally on December 21.
- Did you feel any support while being behind bars?
- Yes, sure. I would like to thank my friends and many strangers for parcels and letters. There were a lot of them. I knew that on January 9th my friends and colleagues wanted to meet me; many of them came to the police department. I was not aware of all the details, but I knew and felt that tremendous support. Thank you all!
- What are your nearest plans?
- For now, I want to handle my utility bills, blogs, reread the letters. Due to more days of arrest, I cannot make any long-term plans, but I won't back down. My goal is a free Belarus without Lukashenka. We'll make it happen together.