Raukou Changed His Position Before "Elections", Just Like His Predecessors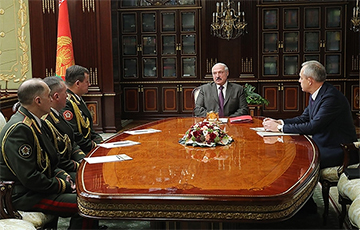 Journalists have noticed a certain pattern.
On January 20, Lukashenka appointed Major-General Viktar Khrenin Minister of Defense. Andrei Ravkou was appointed state secretary of the Security Council, Salidarnasts reports.
It is indicative that the castling in the security agencies took place in the year of "presidential elections". And if you study the history of the defense department over the past two decades, you can see that such reshuffles have become a tradition. Judge for yourself.
The year 2001 was an exception. The replacement of defense ministers took place a few weeks after the "elections": on September 24, Leanid Maltsau took the chair of Aliaksandr Chumakou.
At the beginning of 2009, a year before the "elections," Yury Zhadobin became the minister of defense, having left to Maltsau the post of state secretary of the state.
Andrei Raukou became the head of the department in November 2014, when there was less than a year left before the "elections" of the president.
According to experts, such castling may indicate the ruler's level of trust to the leadership of law enforcement agencies. And on the eve of the "elections," such steps may have a preventive character in order to avoid a possible secret deal.